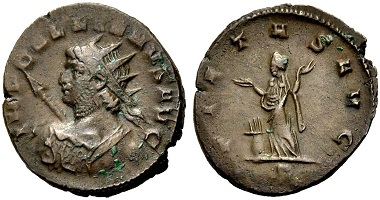 Roman Coins from the Mint of Milan
by Claire Franklin
The mint of Milan (Mediolanum) in the fertile Po valley in Northern Italy was active in the third century A.D. for about 16 years until being closed down (259-274/5 A.D.). This was a troubled period of history during which the Roman Empire was torn between different factions and armies, and the coinage reflects this unrest in its low silver content and often sloppy production methods. Milan was an important military base protecting the rest of Italy against barbarian incursions from the North. Following attacks by the Germanic Alamanni (perhaps about 260), a large number of soldiers were stationed there and accordingly a mint was necessary to produce coins to pay their wages. As many coin issues are rarely encountered the output of the mint seems to have been somewhat sporadic.
This collection includes coins minted by Gallienus, in whose reign the mint was opened, Postumus (minted via Aureolus, his general), Claudius II Gothicus, Quintillus and Aurelian. During the reign of Aurelian, coin production in the region was transferred to Ticinum.
Not all the coins of the Milan mint bear mint-marks (M, MP, MT, S and other variants are used), but numismatists have attributed them to the mint on the basis of style. Many of the animals on the reverses are depicted in a fluid, non-naturalistic manner, and when viewing a collection such as the present one the stylistic similarity of the coins is immediately apparent (something which is often difficult to judge for those who work with the meagrely illustrated RIC!). The numismatist Robert Göbl was instrumental in ordering the coins of this era into mints and emissions on grounds of style.
Catalogue No 502: Gallienus, 253-268. Antoninianus, 265-266. Rv. Pietas.
The coins of this troubled period were not always minted with the same care as earlier Roman issues. The silver content also varies considerably. Nevertheless, the coins of this period are popular with collectors due to the huge variety of types. The obverses in the collection display a variety of different busts, particularly for the coins of Gallienus, some of which emphasise his role as a military leader (e.g. Lots 491, 485, or the rare 502), …
Catalogue No 496: Gallienus, 253-268. Antoninianus, 264. Rv. Sol.
while others depict him in consular robes (496) or …
Catalogue No 495: Gallienus, 253-268. Antoninianus, 264. Rv. Laetitia.
with his hand raised in greeting (495). As these coins are Antoninians, all rulers are depicted radiate.
Catalogue No 474: Gallienus, 253-268. Antoninianus, 260. Rv. Centaur.
The reverses are extremely varied. A large number depict animals, and while some of these may have been connected to legionary emblems, many may also reflect the Roman love of spectacle – lions feature on many of the coins, for example. Mythical creatures are also present – the winged horse Pegasus (Lots 471-472), a lively centaur (474), a half-bull, half fish creature along the lines of the …
Catalogue No 496: Gallienus, 253-268. Antoninianus, 260. Rv. Hippocamp.
"hippocamp" (469) and a capricorn consisting of goat and fish elements (482) are featured. These may have held special significance. The legends connect coins to specific legions. The capricorn can be linked to the emblem of the 22nd legion (though the legend on the coin suggests otherwise), the stork for the 3rd legion and other emblems may have reflected other groups otherwise unknown to us.
Catalogue No 462: Gallienus, 253-268. Antoninianus, 259. Rv. Diana.
Yet other types depict goddesses such as Diana, hunting with her dogs on Lots 461-462, Minerva with helmet and shield (470), Victoria (478), who is also combined with a lion on Lot 481, and Poseidon with a dolphin (480).
The collection presented here was assembled over many years and many of the coins have excellent pedigrees, a matter of great importance at the present time. Three coins come from the collection of Reverend Clayton Mordaunt Cracherode (1730-1799), an important figure in British intellectual history who acted as trustee of the British Museum, into whose care his coin collection passed on his death. The coins in the present auction (Lots 463, 470, 479) were later sold off by the British Museum as doublets. Another coin in the collection (Lot 466) comes from the collection of Duc Louis Charles Pierre Casimir de Blacas d'Aulps (1815-1866), 2nd Duke of Blacas and member of a distinguished French provençal aristocratic family; it too is a doublet of the British Museum. Several coins in the sale have also been used as illustrations in scholarly works, for example by Bastien/ Pflaum (514 ff.), Doyen (495) or Göbl (463).
Catalogue No 485: Gallienus, 253-268. Antoninianus, 260. Rv. Radiate lion.
A number of other coins come from the Gibraltar coin find, via the collection of Lt. Colonel H.D. Gallwey (Num. Chron., 1962), which contained 244 specimens of Gallienus' legionary issues of Milan, coins which are otherwise seldom found. These include rare varieties such as the reverse of Capricorn, the symbol of the 22nd Legion, as well as coins depicting Neptune (Lot 484) or a lion with radiate crown (Lots 485, 487).
Catalogue No 473. Gallienus, 253-268. Antoninianus, 260. Rv. She-wolf with Romulus and Remus.
There are even a few unique pieces, such as the coin depicting the she-wolf with Romulus and Remus (Lot 473).
Just as these coins fascinated collectors in the past, they are still popular with collectors today. The coins will be sold at auction on 26th February 2016 in Stuttgart. Copies of the auction catalogue are available for a charge of 10 EUR from Münzen & Medaillen GmbH, Hauptstrasse 175a, D-79576 Weil am Rhein, Germany. The lots are also displayed on www.numisbids.com and it is possible to participate in live bidding via the biddr system.
Please find the general website of Münzen & Medaillen GmbH here.
https://new.coinsweekly.com/wp-content/uploads/2018/10/20852_b02d06f2-1.jpg
200
380
https://new.coinsweekly.com/wp-content/uploads/2023/01/logo-coinsweekly_590x204.png
2009-10-14 00:00:00
2009-10-14 00:00:00
Roman Coins from the Mint of Milan