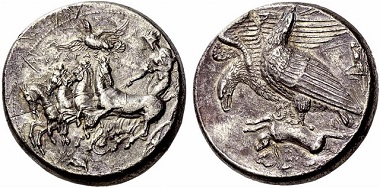 The Most Expensive Greek Coin
October 25, 2018 – There are only 10 known specimens of the famous decadrachm from Akragas. And one of them sold for 2.3 million Swiss francs at Numismatica Ars Classica (NAC) Auction 66 on October 17, 2012. It is thus very likely to be the most expensive Greek coin ever to be sold in an auction.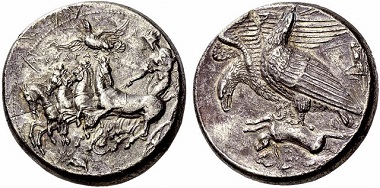 This decadrachm from Akragas may well be the most expensive Greek coin. From Numismatica Ars Classica NAC AG Auction 66 (2012), No. 6. Photo: Numismatica Ars Classica NAC AG.
This decadrachm was presumably struck between 409 and 406 B.C. Experts assume that the unsigned dies trace back to artists My(ron) and Poly (ainos).
The emission was probably issued shortly before Akragas was conquered by the Carthaginians. Just like its famous temples, these coins too represent a wealth that the city would never again reach after the Carthaginians had conquered it.
As experts, Alan Walker and Christoph von Mosch were asked to verify this record on October 23, 2018.
More information on NAC is available on their website.
Ulla Westermark has published a detailed study on the coinage of Akragas.
You can learn more about Akragas in this travel report.
If you also want to submit a CoinsWeekly Coin Record, this article will tell you what information we need from you.
https://new.coinsweekly.com/wp-content/uploads/2018/11/35067_57cf7325-1.jpg
188
380
https://new.coinsweekly.com/wp-content/uploads/2023/01/logo-coinsweekly_590x204.png
2018-10-24 00:00:00
2018-10-24 00:00:00
The Most Expensive Greek Coin