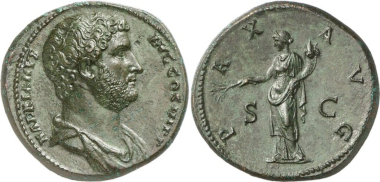 The Most Expensive Roman Coin
October 18, 2018 – The corresponding catalog labels it the most beautiful Roman coin ever minted and collectors very much agreed with this statement: On December 3, 2008, Numismatica Genevensis SA sold a perfect sestertius featuring a monumental portrait of the popular emperor Hadrian for 2 million CHF. At the time of the auction, this sum equated to 1,648,805 USD or 1,298,928 euros. Therefore, it is very likely to be the most expensive Roman coin ever to be sold in an auction.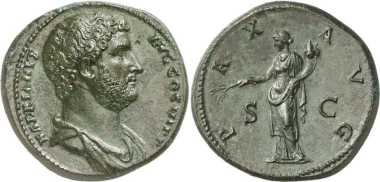 The most expensive Roman coin: A sestertius of Hadrian, probably the work of Antoninianos of Aphrodisias. Sold for 2 million Swiss francs at Numismatica Genevensis Auction 5 (2008), No. 233.
The coin had been estimated at 400,000 CHF, which was already a high price for a sestertius. The reason behind this number was not only the coin's perfect grade but also the fact that Charles Seltman had convincingly connected its die to the "maître de l'Alphée". In order to be able to distribute a very special coin in celebration of his vicennalia, Hadrian probably approached said famous artist. He was part of the emperor's close circle and was later assigned the creation of several medallions commemorating the late Antinous. Based on a signature on a statue of Antinous, he is known in the field of art history as Antoninianos of Aphrodisias.
Aphrodisias was one of the most renowned hubs of statue production within the Roman empire at the time of Hadrian's reign. The pieces created there were not just famous in ancient times. Which is why the sestertius, which was struck in Rome between A.D. 135 and 136, is a numismatic masterpiece created by a famous artist – and a great numismatic rarity.
As experts, Alan Walker and Eric McFadden were asked to verify this record on October 16, 2018. Both experts confirmed this record on the very same day.
If you also want to submit a CoinsWeekly Coin Record, this article will tell you what information we need from you.

https://new.coinsweekly.com/wp-content/uploads/2018/10/34939_8fd40730-1.jpg
182
380
https://new.coinsweekly.com/wp-content/uploads/2023/01/logo-coinsweekly_590x204.png
2018-10-17 00:00:00
2018-10-17 00:00:00
The Most Expensive Roman Coin