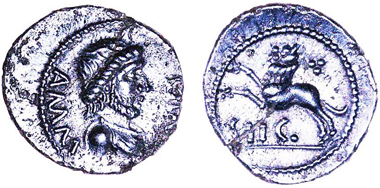 Unique coin of British king who fled to Germany
by Chris Rudd
On 2 June 2013 an important ancient British coin – a silver unit of a previously unrecorded type – was found at Staple in east Kent, former land of the Cantiaci. It was struck by Amminus ('friend'), a Cantian king of Catuvellaunian origin who ruled in Kent around AD 30-40, shortly before the Claudian invasion in AD 43, which he may have encouraged.
Amminus Lion silver unit, struck at Sego (Folkestone?) c.AD 30-40, found at Staple, Kent. Photo: Chris Rudd.
The coin has a Roman-style bust of Amminus and may be a portrait of him. He wears a loose-fitting tunic and his head is crowned by a rope-like jewelled fillet. This exotic headband is unlike any other I can recall seeing on a British, Gaulish or Roman coin of the period. On the other side of the coin is a bounding lion. Its mane is engraved in the same rope-like manner as the king's flamboyant fillet – surely no coincidence.
Amminus minted at Duno and Sego. His command of Kent, with sea on three sides, probably gave him control of cross-channel trade. Did the prince become a pirate? Photo: Chris Rudd.
Under the lion are the letters SIIC which may be read as SEC or SEG, which is probably an abbreviation of Sego ('strong' or 'victorious'), which could be the first part of a mint-name such as Segodunon ('strong fort'). Other coins of Amminus were minted at Duno ('the fort').
Cunobelinus bronze unit, c.AD 10-40, with sea-going ship. Naval victory? Or minted at Sego? © Jane Bottomley.
No ancient author mentions places called Sego or Duno in Kent and their locations remain unknown. However, a bronze coin of Cunobelinus, believed to have been issued for use in Kent, may provide a clue as to where Sego was. It shows a masted ship – clearly a sea-going vessel – and a winged Victory inscribed SE. Some people think this coin celebrates a naval victory. Maybe it does. But I think that SE also refers to Sego, the name of a coastal stronghold captured by the Catuvellauni.
Excavation of clifftop Roman villa and Iron Age oppidum at Folkestone, Kent. Was Sego[dunon?] here? Photo: Andrew Selkirk, Current Archaeology 262.
David Holman is a specialist in Cantian coins and also well versed in Cantian archaeology. So I asked him where my Sego coastal fort was mostly likely to have been located in Kent. He said: "If you want a major Late Iron Age coastal site on a hill in Kent, look no further than Folkestone, where you have a huge Iron Age site underneath the Roman villa on the East Cliff." Coins of Amminus have been found near Folkestone, in West Sussex and as far west as Dorset. David Holman thinks that Duno may have been at Goodnestone, to the east of Canterbury. Bronze coins of Amminus have been found at Goodnestone and the new Amminus Lion silver coin was discovered only a mile or so away.
Brass sestertius of Caligula, struck at Rome, AD 39-40, around the time that Amminus surrendered to him at Mainz. Photo: Classical Numismatic Group.
Little is known of Amminus and much of that, such as the right way to spell his name, comes from his coins. He is almost certainly the historical Adminius who fled as a refugee from Britain in AD 39 or 40 and who surrendered to the Roman emperor Caligula ('little boots') when the latter was stationed on the Rhine at Durocortorum (Mainz, Germany).
Imagined portrait of Amminus who ruled in Kent until banished by his father, Cunobelinus. © Jane Bottomley.
Writing 80 years later, the Roman biographer Suetonius speaks disparagingly of Caligula's manoeuvres in Germany and northern Gaul, saying: "All that he accomplished was to receive the surrender of Adminius, son of Cunobelinus, king of the Britons, who had been banished by his father and had deserted to the Romans with a small force" (Caligula 44.2).
Amminus' coins are so like Cunobelinus' coins (left) that he must be the historical Adminius (right). Photo: Chris Rudd.
The coins of Amminus in Kent are similar to coins of Cunobelinus in Essex, so it seems likely that Amminus was sent to Kent to rule there on behalf of his father. Why was he expelled? Did he get greedy and rebel against Cunobelinus? Whatever the reason, I suspect that his surrender to Caligula, coupled with the death of Cunobelinus soon afterwards and the flight of the British king Verica to Rome in c.AD 40, must have encouraged Claudius to invade Britain.
Five possible sons of Cunobelinus who issued coins. Amminus may have been the second eldest: Agr, Caratacus, Amminus, Solidu, Dubn(Togo). © Jane Bottomley.
Dr Graham Webster, who excavated a silver coin of Amminus in Dorset in 1967, suggests that Amminus may have been the eldest son of Cunobelinus. I doubt it. Of five potential sons of Cunobelinus – the five who minted coins – only Agr appears to have minted in gold, silver and bronze; only Agr's coins are inscribed with the name of Cunobelinus' capital, Camulodunon; and only Agr seems to have issued coins as early as c.AD 25-30, in other words, probably before Amminus did.
Agr bronze unit struck at Camulodunon, c.AD 25-30. Before Amminus began ruling in Kent? © Jane Bottomley.
Therefore, on balance, I think that Agr – perhaps short for Agricu ('war dog') – was the eldest son of Cunobelinus and that Amminus was the second eldest.
The newly discovered Amminus Lion silver coin will be sold by auction in November by Elizabeth Cottam of Chris Rudd. For their help with this brief report I thank Jane Bottomley, David Holman, Dr Ian Leins, Dr Daphne Nash Briggs and Dr John Sills.
Don't miss to visit the website of Chris Rudd.
If you are interested in British Iron Age coinage you will find more interesting article in our Celts section.
https://new.coinsweekly.com/wp-content/uploads/2018/10/10461_c7a8da80-1.jpg
188
380
https://new.coinsweekly.com/wp-content/uploads/2023/01/logo-coinsweekly_590x204.png
2009-10-14 00:00:00
2009-10-14 00:00:00
Unique coin of British king who fled to Germany