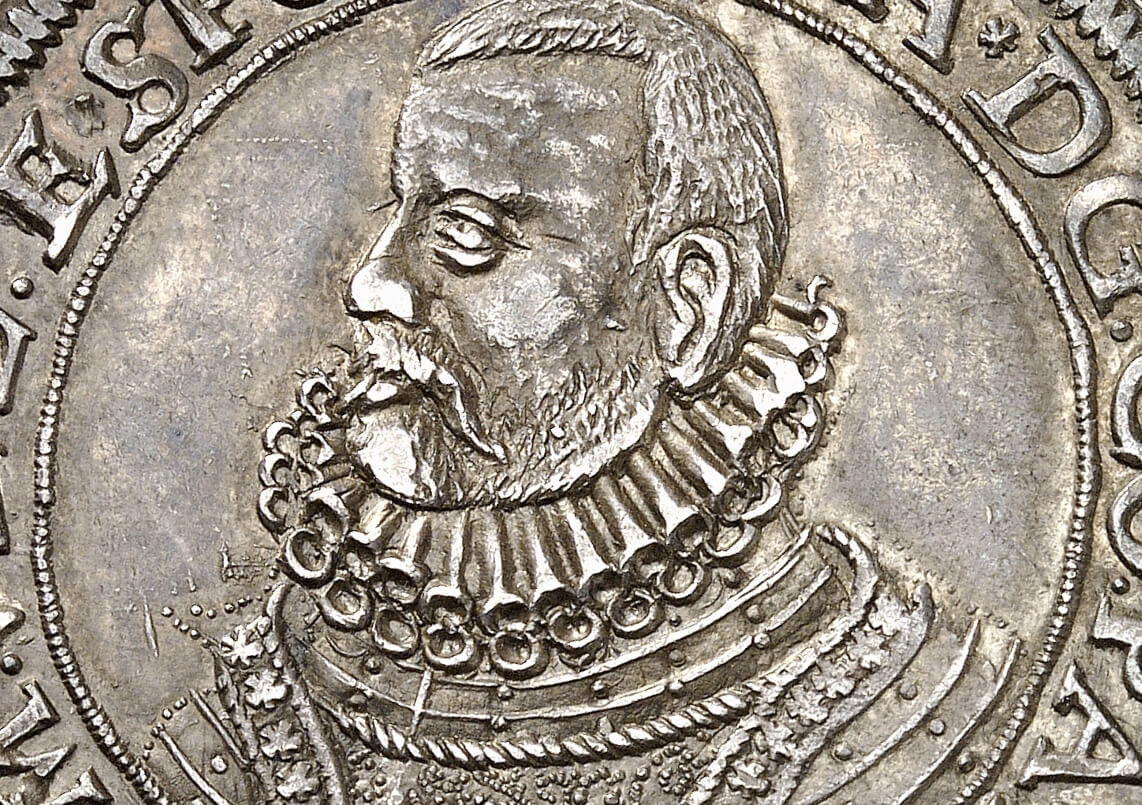 Oh Lord, My God, Give Light to My Eyes
When John I assumed rule, the second-born son did inherit the Duchy of Palatine-Zweibrücken from his father Wolfgang, but also the debts connected therewith. According to contemporary estimates at the time the 19-year-old took over office, those debts amounted to about 700,000 gulden. That was a huge sum if you keep in mind that the annual income of the Duchy of Zweibrücken added up to ca. 26,000 gulden. In other words: if the young duke were to pay off his debts, he would end up with an annual deficit of 17,000 gulden…
Although the whole situation would not have looked quite as dismal if those, in whose service his father Wolfgang had spent money, would have paid off their debts. The Huguenot party of France, whose leader would accede to the throne as King Henry IV in 1589, confirmed in writing on February 13, 1571 that it owed Wolfgang's descendants exactly 610,368 gulden for war service. That sum would never be settled. There was one thing John I learned from all of this: war is not worth it. He made history as a peaceful ruler who dedicated his life to the right religion, the study of the past, and the reorganization of his land.
Since his father Wolfgang had determined in his will that his son would not take over power completely until the age of 24, the then 20-year-old did not have a lot of say in the matter when his guardians renewed the so-called Formula of Concord in his name in 1570. Contemporaries knew this being a summary of the Lutheran faith, which had been accepted as equal to the Catholic faith in the Peace of Augsburg in 1555 – a tolerance which did not extend to the Reformed faith, by the way…
John I was not happy about this. He preferred a different interpretation of faith; an interpretation such as the one advocated by Reformer Zwingli in Zurich and Reformer Calvin in Geneva. Even though some of us struggle to so much as understand the small differences between Lutherans, Zwinglians and Calvinists regarding their interpretation of grace, Communion and the remission of sins, for John, they were of existential importance. We do know that he was close friends with Johann Wilhelm Stucki (1521-1607) who was a historian, coin collector – and one of the most prominent Reformed theologians in Switzerland.
"Illumina Oculos meos, Domine!" This is what we read on the extremely rare taler which will be offered in Heidelberger Münzhandlung Auction 76 on May 14th/15th 2019. "Oh Lord, my God, give light to my eyes!" This quote from Psalm 13, Verse 4 had its very own significance for John I. He noted it for the first time in 1579 on an empty page of a church order, which had been printed in 1570. With that order, the Lutheran Formula of Concord had been made part of the everyday Church life of his duchy. At that time, he already pondered whether he should continue to represent the Formula of Concord or whether he should challenge the emperor and command that a different Reformed version of the Christian faith should be followed in his own duchy. In 1592, he had the new Reformed church order adopted. And in that very same year, he wrote the verse "Oh Lord, my God, give light to my eyes!" into an album amicorum (an early form of friendship book) along with the additional explanation that translates to: To be a Christian, a prince, a friend, my resolution is. / My Lord Jesus Christ help me achieve that. / To be a Christian according to God's Word / To be a prince in my place. / To be a friend in this world / All of that which pleases God.
Hence, it is very likely that the taler offered at the Heidelberger Münzhandlung auction that reads "Illumina Oculos meos, Domine!" is closely connected to John's conversion to the Reformed faith. It would match time-wise. As duke, he was expected to give gifts to his friends in celebration of the New Year – despite any financial problems. Many rulers liked to have special coins minted for this purpose. John himself was a historian and a coin collector, so he was well aware of the significance of an expressive and meaningful coin image. It was quite an obvious decision then to have his conversion to the "true" faith recorded on a coin image of representative talers, which he had struck in low mintage and send out to his correspondents as New Year's present.
We look forward to finding out at what price this numismatic record of the Reformation will be sold at. A taler of the same duke that was sold by Heidelberger Münzhandlung in November of last year might give us an idea. It started at 10,000 euros and sold for a total of 34,000 euros. If you keep in mind that the piece offered now is much rarer and much more important in terms of political and religious history…
You can find all of the coins from Heidelberger Münzhandlung Auction 76 on Sixbid (Part 1 and Part 2) and Numisbids.
A detailed auction preview is available on CoinsWeekly.
In 2017, the Swissmint dedicated a commemorative coin to Calvin and Zwingli. More information about both of them is available on the Switzerland Tourism website.
The Encyclopaedia Britannica offers a more detailed explanation of Calvinism.
https://new.coinsweekly.com/wp-content/uploads/2019/05/KW1919_HA_00-1.jpg
805
1142
https://new.coinsweekly.com/wp-content/uploads/2023/01/logo-coinsweekly_590x204.png
2019-05-09 14:00:21
2019-05-09 14:00:21
Oh Lord, My God, Give Light to My Eyes