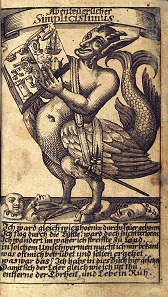 Poets and their income: Hans Jakob Christoffel von Grimmelshausen

translated by Christina Schlögl
We do not know when exactly Hans Jakob Christoffel von Grimmelshausen wrote his adventurous Simplicius Simplicissimus. The announcement of the book's publication at least appeared in the catalogue of the Leipzig Autumn Fair in 1668: 'Simplicius Simplicissimus / that is: The description of a strange vagrant by the name of Melchior Sternfels von Fuchshaim / exceptionally droll / and greatly useful to read. Given (= published) by German Schleiffheim von Sulfort.'
The frontispiece of the first edition of Simplicius Simplicissimus from 1669.
We neither know how much the book cost, nor do we know how much the publisher of Simplicius Simplicissimus, Wolf Eberhard Felßecker from Nuremberg, paid the author for his manuscript. But one thing we do know: Felßecker was certainly not what you would call a strong businessman. He printed and sold everything he could quickly earn some money with, like for example the all too popular calendars with sensational stories printed on cheap paper. Or a kind of weekly published newspaper that did not stand out for being particularly reliable. In addition Felßecker constantly got in trouble for reprinting other businessmen's books (and selling them cheaper than the originals). And now he had taken on the printing and distribution of the Simplicissimus, whose appealing story seemed to promise good business.
In 1976, a commemorative coin for Grimmelshausen worth DM 5 was issued. Photo: Jobel / CC BY 3.0
Did he even pay Hans Jakob Christoffel von Grimmelshausen for the manuscript at all? The 17th century was a transition period where fixed wages were superseding other forms of payment. Receiving a 'honorarium' (meaning a fee) as a writer had not become prevalent yet. What a misleading word anyway: 'honorarium'! Hidden within is the Latin word 'honos' for honour and 'honorarium' – at least until well into the early modern age – had absolutely nothing to do with a payment. Instead it was an honorary gift that was given to another person for their achievement.
Of course such an honorary gift could already be talked over by both business partners beforehand. A publisher for instance, might have revealed what he was willing to pay the author after he delivered the manuscript. And the author was obviously free to ask several publishers what kind of honorary gift they would send his way after delivering the manuscript.
One generation after the end of the war, the buyers of the Simplicissimus read all his awful stories with goosebumps and shivers. Here you can see a plundering scene painted by Jaques Callot in the year 1633.
Authors were often paid in free copies. On average, they received 100 copies, which was about 10% of the edition. The author then gave them as a 'gift' to friends, benefactors and people, who he knew would be interested in his book. And he could count on them giving him something in return, like natural produce, privileges, but also money. Gift and return gift linked early modern society like a net. Everyone contributed by sparing what they could spare – be it more or less, depending on their social status: If a poor author sent his book to a well-esteemed prince, he could count on his return gift surpassing the value of the book many times over. By contrast, if he gave the book to another author, chances were high that the other author, being of equal rank, would give his own book in return.
By the time Simplicissimus was published though, authors had already managed to force competing publishers to make greater concessions. Thus, the booksellers of Leipzig made a complaint about their increasing expenses to the Saxon government in 1667. Royalties had risen so much, that they would have to pay an author one ducat for one sheet (probably with 16 pages). Either the booksellers had exaggerated (which, after all, one tends to do when writing a letter to the government) or royalties dropped again in the following years. In any case, in 1675, Ahasver Fritsch wrote in his Tractatus de typographis that booksellers would pay between 12 and 16 groschen for one sheet, which was between a half taler and two thirds of a taler. The first edition of the Simplicissimus comprised 38.5 sheets. Feel free to do the math yourself.
Did Grimmelshausen get paid in talers like this one? Probably not, since gems like this one were reserved for representative payments or for honorary gifts. – Nuremberg Rathaustaler, n. y. (1668). From the auction Künker 201 (2012), 647.
Surely, it was not the author but the publisher, who made good business with this successful book. The publisher offered the author's texts in Leipzig and Frankfurt am Main, where large book fairs were held twice a year for one week at Easter and in autumn. These book fairs were not visited by authors, let alone readers. Instead it was mainly publishers and agents of the different trading houses who attended the fairs. Readers were informed about upcoming books via a catalogue. And the customers – mostly of course from upper social ranks, after all an average craftsman would have had to work for more than a week to be able to afford a book like the Simplicissimus – would place an order with the trading house to buy certain books. The trading house would then convey the order to an agent at the fair and thus the bestsellers of these days made their way to their readers, tightly wrapped up in small barrels, carried by donkeys.
Even if Grimmelshausen had received a payment for his original manuscript, surely he would not have been able to get a share of the profit – which might explain why he was not satisfied with his publisher anymore. Maybe that is why a publisher from Strasbourg suddenly started to print the Simplicissimus. Felßecker tried to intervene but then stopped his applications all of a sudden. Presumably, the author himself had finally informed him about the matter.
One thing, in any case, must be noted: In the 17th century, even a bestseller like the Simplicissimus was not enough to make a living. Grimmelshausen earned his money as an official and an innkeeper. When his book was published, he was serving under the order of the bishop of Strasbourg, as village mayor of Renchen, a small town near Strasbourg, where he was in charge of collecting taxes and summary jurisdiction. Today, his act of writing the most significant German prose work of the Baroque age, would probably described as a non-taxable income as secondary employment by our tax office.
Do you wonder how Shakespeare coped with his financial situation? Read our article 'Poets and their income: William Shakespeare'.
https://new.coinsweekly.com/wp-content/uploads/2018/10/25621_09505e3d-1.jpg
297
168
Ursula Kampmann
https://new.coinsweekly.com/wp-content/uploads/2023/01/logo-coinsweekly_590x204.png
Ursula Kampmann
2009-10-14 00:00:00
2009-10-14 00:00:00
Poets and their income: Hans Jakob Christoffel von Grimmelshausen