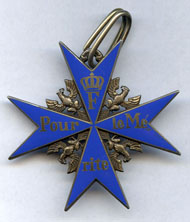 On May 31, 1740, Frederick II succeeded his father on the throne, soldier-king Frederick William I. To the 28 year-old, that came as some kind of liberation. Finally, he was able to carry out his ideas. Frederick II not only immediately abolished torture once and for all but also founded a new order as early as June. Its programmatic name was 'Pour le mérite', for merit. This order was awarded to anyone, national as well as foreigner, ordinary citizen as well as aristocrat, as long as he achieved something for the kingdom of Prussia.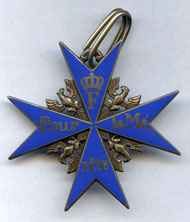 From the upcoming orders sale of auction house Künker / Osnabrück in the middle of June: Kingdom of Prussia. Order 'pour le mérite', order cross, gilded silver, enamel, manufactured by Friedländer Company, Berlin, 1917, awarded on November 29, 1917, to Lieutenant Colonel Max Zunehmer (1865-1945).
This highest Prussian order was conferred 5,430 times until the end of monarchy. It owed its design – a blue-enameled, golden bordered Maltese cross with eight peaks – to his predecessor, the 'ordre de la générosité', founded in 1667. The cross carries a crowned F for the order's founder Frederick II as well as the inscription Pour – le Mé – rite. Between the arms, eagles as the Prussian heraldic animals are depicted. By the way, it was due to the blue color that the order gained its popular nickname: Blauer Max (= blue Max).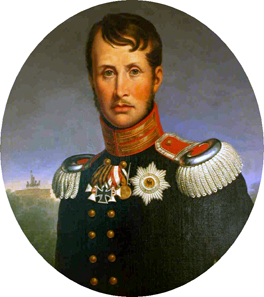 Frederick William III. Source: Wikipedia.
Whereas under Frederick II someone like Voltaire was awarded the order, Frederick William III, during the Napoleonic Wars, laid down that this award was conferred solely for extraordinary achievements on the battlefield. The once underlying democratic principle was counteracted by a new regulation: it became reserved for officers. In 1842, Alexander von Humboldt suggested to create a separate civil class, the 'Pour le Mérite für Wissenschaften und Künste' to be awarded in three different sections: humanities, natural sciences with medicine, and fine arts: in contrast to the military 'Pour le mérite' which ceased with the end of the Prussian monarchy, this award is still conferred today. Among famous recipients are author Umberto Eco, film director Wim Wenders and well-known medalist and sculptor Hubertus von Pilgrim.
That specific example of the 'Pour le mérite' shown here belongs to the military awards. It comes from a comprehensive collection of orders that will be auctioned off by Künker during the auction week from June 17 to 21, 2013. The piece was conferred during World War I when the number of 'Pour le mérite' orders awarded increased considerably.
Of this specific order we even know the recipient. It was lieutenant colonel Max Zunehmer (1865-1945). Born in Breslau in 1886, the 20 year-old joined the Prussian army as officer cadet. After having attended the army college, he was given his commission on September 17, 1887.
When World War I broke out, Zunehmer was already major. On January 27, 1916, he was promoted to lieutenant colonel and became commander of 4th Westphalian infantry regiment 'Graf Barfuß' no. 17.
When Max Zunehmer was awarded his order on November 29, 1917, his regiment was situated in the eastern theatre of war, near Kovel fortress at Stochod River. Just a month later, on December 20, 1917, he and his men were redeployed to the Western front. During this horrible trench warfare his regiment was committed at the front line more than once. Max Zunehmer continued to be officer. He was honorably discharged from the army on December 9, 1919.
In 1939, at the beginning of World War II, the 73 year-old was mobilized again. At first, he was appointed commander of Düsseldorf, later he was transferred to the 'Führerreserve'. He was finally discharged from the army on October 31, 1942. Max Zunehmer died under suspicious circumstances in Kassel in the last days of the war.
You can read an auction preview on this auction here.
https://new.coinsweekly.com/wp-content/uploads/2018/10/9561_a1b776ca-1.jpg
222
190
https://new.coinsweekly.com/wp-content/uploads/2023/01/logo-coinsweekly_590x204.png
2009-10-14 00:00:00
2009-10-14 00:00:00
Pour le mérite