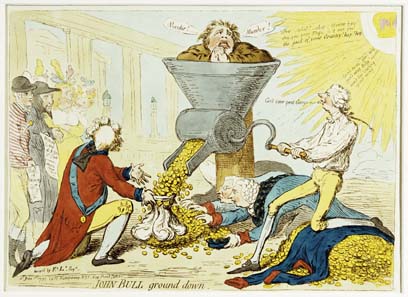 Everybody likes a good laugh, especially at the weaknesses of others. Perhaps this is the reason why we all enjoy caricatures so much: because they make us laugh before we are taken aback and begin to reflect on them.
The Aareal Bank obviously agreed with this view since the management had decided 20 years ago to assemble a collection of caricatures focusing on the very intriguing relationship of people with money. For this purpose, roughly 300 original works by Sempé, Hogarth, Daumier, Hurzlmeier, Haitzinger and a great many others were brought together. Now the Wilhelm-Busch-Museum houses that material: the Aaereal Bank entrusted its collection to the "Deutsches Museum für Karikatur und kritische Graphik" as permanent loan. A first exhibition was presented as early as 2009 – let us hope that many more will follow.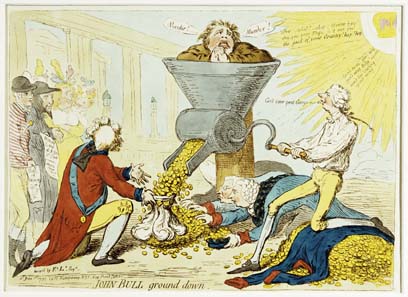 James Gillray (1757-1815), John Bull ground down, 1795.
Ground down
The spectrum of caricatures ranges from the end of the 18th century to the present. One example for an early sketch is James Gillray's "John Bull ground down" from 1795. In those times, the marriage of the Prince of Wales and Caroline von Braunschweig and – most of all – the high taxes the English citizenry had to pay for that were on everyone's lips. After all, the Prince had not quite voluntarily divorced his former, Catholic, wife and married again – this time Caroline, being politically correct and a Protestant. Debts had been pressing hard on the notorious bon vivant, here embodied by creditors with their obligations standing right behind the Prince. The future sovereign kneels under the mill which Prime Minister William Pitt so skillfully operates and collects the money rain. After all, his outcast wife – in the sketch the third from the left – had to be provided for, too. Politicians like Henry Dundas and Edmund Burke in this case availing themselves of the tax blessing were not uncommon those days (and England still seems to cling to that tradition). No one pays attention to poor John Bull, embodiment of all English tax-payers, who gets no help whatsoever despite his crying "Murderer! Murderer!"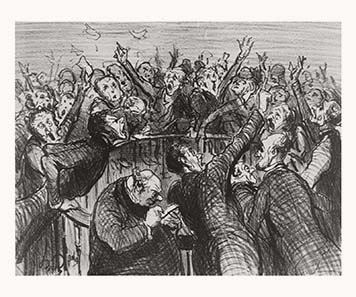 Honoré Daumier (1808-1879), At the stock exchange (A la bourse), 1856.
At the stock exchange
Another variety of human greed for money can be observed at the stock exchange where the Parisian investors meet at a circular grid. Honoré Daumier in his inimitable style captures the typical characters here. A plump boomer stands in the foreground. He has taken his pencil and makes notes, being very concentrated and dogged, perhaps about the day's results, perhaps his profits, perhaps his losses. His colleagues seem rather gripped by fear. With eyes wide open they scream, gesture and beg. Notes flutter about, the room is heated with emotions – surely this room is no place the viewer would gladly spend his time.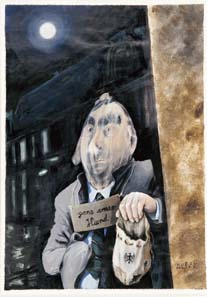 Rudi Hurzlmeier (*1952), Thinking of Germany at night (Denk ich an Deutschland in der Nacht), 1995.
Fiscal emergency steps
Thinking of Germany at night – taking up the title of this caricature, every literate Germanist will add without hesitation from Heine's Night Thoughts: "puts all thoughts of sleep to flight."
Whereas Heine in his days worried about the system of political pressure we nowadays rather worry about our money, as Rudi Hurzlmeier has already illustrated in 1995. Theo Waigel was Minister of Finance then and yet he had difficulties to adequately fill the coffers. There he stands, at moonlit night, a stocking mask pulled over his head with the pistol in his jacket desperately trying to get his hands on the taxes. Whether he appears as beggar and "poor old dog" or rather as robber is left to the eye of the beholder. In any case, the taxes received will surely not be enough to put the budget back on its feet. The holes in the German coffers are way too big.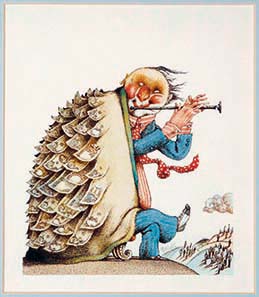 Tullio Pericoli (*1936), The Moneycatcher (Der Geldfänger), 1986.
The Moneycatcher
The Italian caricaturist Tullio Pericoli, with his Moneycatcher, holds a mirror up to another version of human behaviour. No, it was not created in the course of the financial crisis but already in 1986. Just like the Pied Piper of Hamelin he only has to play on his flute softly. Thereby, he allures thousands of people all too willing to believe his big money promise. Our moneycatcher is clad like a typical banker with his pinstripe suit, his two-coloured shoes and the red tie. This is a timeless allegory of human foolishness and of those who know how to exploit it.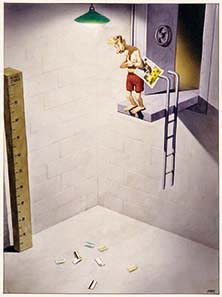 Gerhard Haderer (*1951), Plastic Money (Der Fortschritt ist nicht mehr aufzuhalten: Das Bargeld wird abgeschafft), n. d.
Beyond Scrooge McDuck
A time-referenced sketch was produced by Gerhard Haderer reflecting on a phenomenon of the past decade. The old coins and notes are replaced by plastic money and offsetting money with increasing frequency. Scrooge McDuck did not have a refreshing bath in his money pool and recharge his batteries amidst his gold in a long time. Offsetting money at arbitrary heights provide a rather rough landing instead. Haderer has drawn a highly ambiguous caricature which leaves it up to the viewer to be amused or shocked.
More information on the Wilhelm-Busch-Museum at www.wilhelm-busch-museum.de
Further details regarding the collection at
http://www.aareal-bank.com/presse/pressemitteilung/der-geist-des-geldes-satirische-betrachtungen-zum-thema-geld-ausstellungseroeffnung-der-karikaturensammlung-der-aareal-bank-im-wilhelm-busch-museum/
https://new.coinsweekly.com/wp-content/uploads/2018/10/30_bb2f44e0-1.jpg
297
408
https://new.coinsweekly.com/wp-content/uploads/2023/01/logo-coinsweekly_590x204.png
2009-10-14 00:00:00
2009-10-14 00:00:00
The Spirit of Money