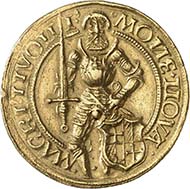 The Teutonic Order in Livonia
by courtesy of the Berlin Coin Cabinet
on the occasion of its exhibit "Gold Giants"
Since the fusion of the Livonian Brothers of the Sword in 1237, the Teutonic Order in Livonia appointed a special Master (Heermeister). Wolter von Plettenberg, who came from Westphalia, was elected to that office in 1494. He secured Livonia against Russia, made for the introduction of the reformation in 1522 and the continuity of the reign of the Order in Livonia even after the Prussian Order state was transformed into a secular duchy in 1525.
112 ducats, 1525. Walter (Wolter) of Plettenberg, Master of the Teutonic Order in Livonia (1494-1535), gold, 41.96 g, 39 mm, 5 h. Berlin Coin Cabinet, object number 18201940.
In 1529, he became Imperial Prince. Connected with the year 1525 are large gold and silver pieces which bear not his name but his coat of arms and the title of Master of Livonia. The gold pieces almost exclusively are later patterns identifiable by the cross and the rosette on the Master's sides on the obverse. These two symbols were punched into the die only later. Of the eight gold pieces known to exist, this one is the only one without the punch and was most possibly made around 1525. Weighing 12 ducats it is likewise the heaviest.
This gold giant can be viewed in the exhibit of the Berlin Coin Cabinet bearing the same title. For more information click here.
https://new.coinsweekly.com/wp-content/uploads/2018/10/2173_7b3b1593-1.jpg
189
190
https://new.coinsweekly.com/wp-content/uploads/2023/01/logo-coinsweekly_590x204.png
2010-07-28 00:00:00
2010-07-28 00:00:00
The Teutonic Order in Livonia