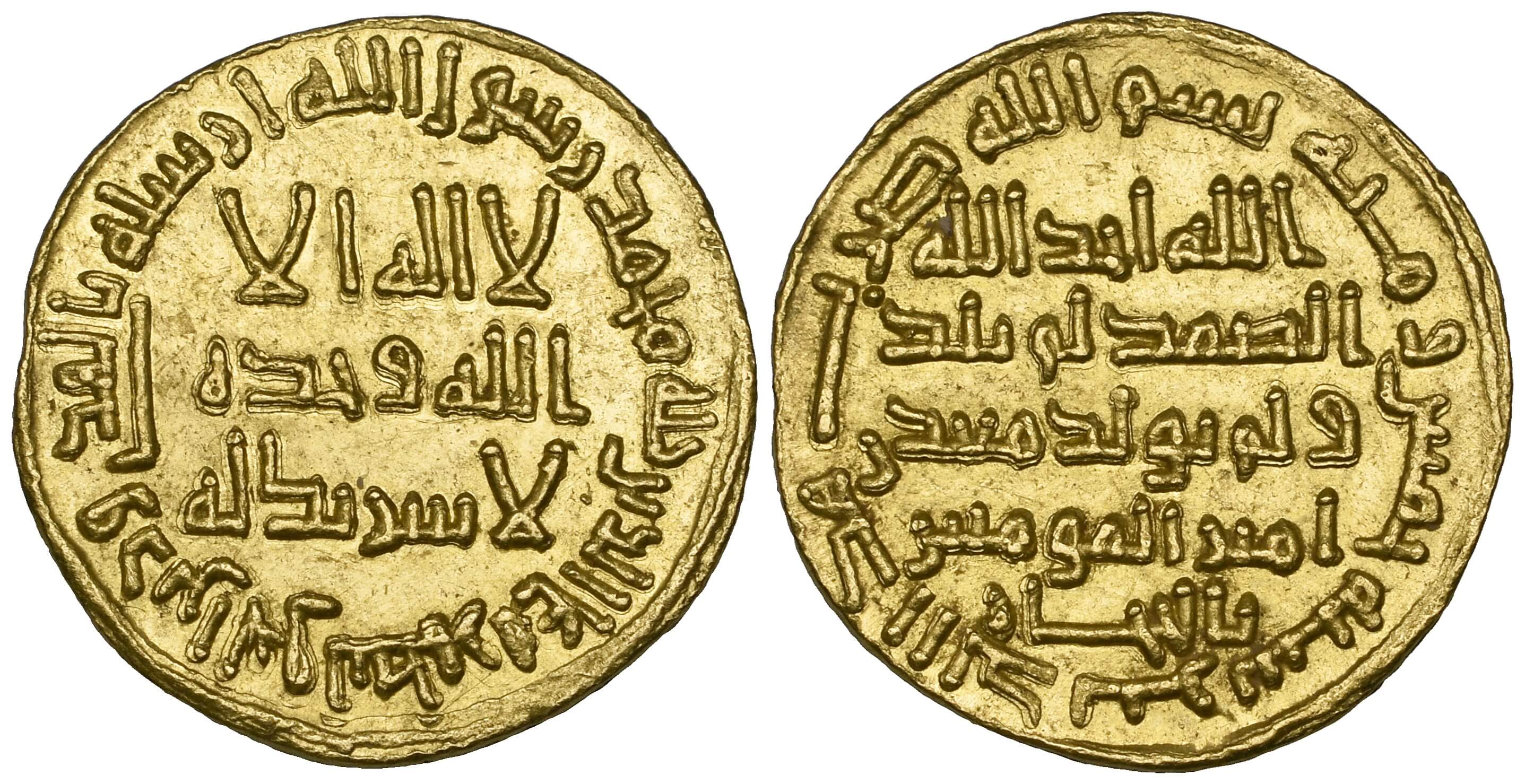 The Most Expensive Islamic Coin
It is not only one of the rarest Islamic gold coins, it is also said to be the most expensive one ever to be sold in an auction. On April 4, 2011, the auction house Morton & Eden sold an Umayyad dinar from 723 AD for £3.7 million (buyer's premium included).
The coin was struck during the reign of Yazid II, the ninth Umayyad caliph. He ruled from 720 to 724. A possible connection of this coin and his haji in 723 has been suggested. According to medieval writers, the caliph purchased territory close to Mecca at the time this coin was minted and a gold mine was located on said territory. This mine "Ma'din Bani Sulaim" (= "Mine of the Commander of the Faithful") is mentioned on the coin. It is the first coin which states a location in its inscription that today is part of the Kingdom of Saudi Arabia.
As experts, Tim Wilkes and Steve Album were asked to verify this record on January 29, 2019. Tim Wilkes confirmed this record on the very same day.
But this was not the end of the story. On 24 October 2019 Morton & Eden offered another specimen of the same type at auction, the second to be sold in a public auction. It was also estimated at £1.4-1.6 million and realised exactly the same impressive result as the first one: £3.72 million (buyer's premium included). Although the auction house did not break its own record it was clearly confirmed.
This article was published on 31 January 2019 and updated on 31 October 2019.
More information about Morton & Eden is available on the auction house's website.
CoinsWeekly published the original press release about the possibly record-breaking sale.
Further information about the fascinating history of the first Islamic dynasty is available online.
If you also want to submit a CoinsWeekly Coin Record, this article will tell you what information we need from you.
https://new.coinsweekly.com/wp-content/uploads/2019/01/02Gold-Dinar-MortonandEdenOctobersale2019-1-1.jpg
1478
2874
https://new.coinsweekly.com/wp-content/uploads/2023/01/logo-coinsweekly_590x204.png
2019-01-30 00:00:00
2019-01-30 00:00:00
The Most Expensive Islamic Coin