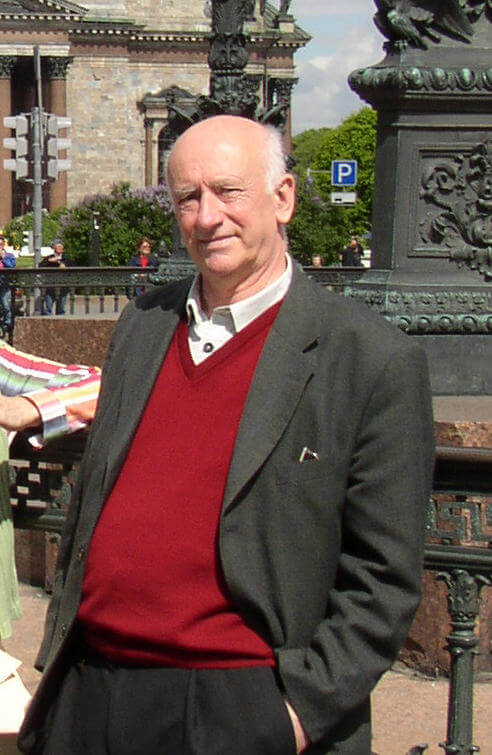 He was the great constant whenever I attended one of the many numismatic events held in Hall in Tirol. Heinz Tursky was always there: friendly, unassuming, with an unmistakable laugh and a profound understanding of Tyrolean numismatics that commanded my respect time and again. The next time I go to the "Haller Münzbörse" coin fair, I won't find him there. On 16 April 2023, Heinz Tursky passed away at the age of 82.
His Career: Chemistry Teacher
When Heinz Tursky was born on 14 December 1941, nobody could have guessed that he would one day go on to change the face of Tyrolean numismatics forever. Even when he began collecting coins at the age of 10, he was simply doing what many considered to be sensible during the post-war period. He completed school in Kufstein, studied Chemistry in Innsbruck and passed the teaching examination in 1969, with chemistry as his main subject. And that might have been it. After all, Heinz Tursky taught for many years at BORG ("Bundes-Oberstufenrealgymnasium") – the federal upper secondary school in Innsbruck. He also spent 24 years at the Federal Pedagogical Academy, where he trained secondary school teachers. But chemistry wasn't enough for him.
His Calling: Coins
Heinz Tursky loved coins. He collected them with passion and a great deal of knowledge. In 1966, he joined the Austrian Numismatic Society, where he also served as a board member for many years.
The big break in his numismatic career followed in 1971, when a group of coin enthusiasts decided to found the Tiroler Numismatische Gesellschaft, a numismatic society based in Hall in Tirol. Heinz Tursky was one of them. And he devoted a great deal of his free time to this society: he edited its magazine, the "Haller Münzblätter", and served as its secretary. He rose to become Vice President, then President, and was even made Honorary President for his service to the numismatic community.
Once again, he became a brilliant teacher – not of chemistry, but of numismatics. He inspired many young people to get involved in numismatics.
A Numismatic Outlier: Hall in Tirol
We also have Heinz Tursky to thank for the essential role that numismatics plays in Hall in Tirol today. The Tiroler Numismatische Gesellschaft became an essential part of Hall in Tirol's cultural scene. After all, this town was home to one of the most important mints of the Habsburg dynasty. Hall in Tirol is the birthplace of innovations that changed the course of international monetary history. And Heinz Tursky reconstructed the history of this mint with the help of the brilliant archivist Dr. Heinz Moser.
Anyone specialising in numismatics of the early modern era will be familiar with the two volumes of this monograph on the history of the Hall Mint, which provide detailed insights into the organisation, practical operations and administrative background of an early modern mint. This reappraisal of history is what sparked the rise in appreciation – among Hall's citizens and politicians – for the old mint and the little museum. Heinz Tursky was one of the masterminds behind the expansion of the Hall Mint into a modern museum of minting technology, which now attracts tourists from all over the world.
In 1986, Heinz Tursky published a second work that would have a lasting impact on Tyrolean numismatics, namely a catalogue of the coins of Rudolf II, Holy Roman Emperor, from the Hall Mint, on which basis he also initiated the Corpus of Tyrolean Coins.
From Coin Collector to Coin Dealer
Numismatics was taking up more and more of Heinz Tursky's life. In 1990, he took the logical step and registered a trade as a coin dealer. In 1991, he joined the Association of Austrian Coin Dealers, and in 1992, he became a sworn and court-certified expert on numismatics. In 1998, Heinz Tursky decided to give up his job as a chemistry teacher and devoted himself to numismatics full-time.
Anyone moving in Austria's numismatic circles was always acutely aware of what they owed to Heinz Tursky. On 12 October 2012, the Austrian Numismatic Society presented him with the Eckhel Medal, which was only the 13th time this honour had been bestowed since its inception in 1957. The town of Hall also honoured Heinz Tursky during his lifetime: he was awarded the Medal of Honour of the Town of Hall in Tirol.
Between Sicily and Hall in Tirol
Heinz Tursky had an endearing ability to enjoy life and do the things he loved. He never allowed himself to be rushed. He admired the southern-Italian lifestyle and was a great fan of Sicily. We're told that he holidayed on this wonderful island over 100 times.
On 16 April 2023, Heinz Tursky passed away at the age of 82. He will be greatly missed! Our thoughts are with his two children, his daughter Regina and his son Florian.
If you would like to light a virtual candle in memory of Heinz Tursky, you can do so at this website.
https://new.coinsweekly.com/wp-content/uploads/2023/04/00Heinz-OENG-St.-Petersburg-1.jpg
755
492
https://new.coinsweekly.com/wp-content/uploads/2023/01/logo-coinsweekly_590x204.png
2023-04-27 10:50:12
2023-04-27 10:50:12
Heinz Tursky (1941-2023)