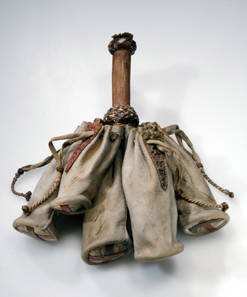 Bags – an interesting topic for numismatics, too
It can only be referred to as deformatio professionalis, this peculiar sensation when you visit an event without the slightest numismatic content only to realize a bit later that numismatics is up to your throat again. That is what happened to me recently when I decided out of the blue to pay the Bayerisches Nationalmuseum a visit again. Theoretically speaking, nothing could have been further away from numismatics than an exhibition about the history of the handbag. But, as a matter of fact, already the first information board right next to the entrance informed me of the fact that the handbag derived from the want to show as imposingly as possible how much money one had at one's disposal.
Bags attached to a stick, Southern Germany, first half of 16th century. Bayerisches Nationalmuseum (= here and after BN) inv. no. T 4098.
Think about the poor traveling dealers in the 16th century. Unlike us who calculate in euro, they had to master a great number of currencies. Living close to the border to Basel, I am used to carry two money bags with me at all times, one for euros and the other one for Swiss francs. In the 16th century, the problem was solved another way, i.e. with several bags attached to a wooden handle.
Money bag for ladies. Regensburg, 1604. BN inv. no. T 4097.
A woman of fashion, on the other hand, carried a small bag at the belt.
9th and 10th commandments, school of Veit Stoß, Nuremberg 1524. BN inv. no. MA 1903. Photo: Bastian Krack.
By the look at this relief and the way a bag was carried, it becomes obvious why pickpockets were called cut-purses in early modern times.
Big beltbag. Southern Germany, around 1500. BN inv. no. W 897.
Men liked to carry their bags at the belt. This specimen not only contained different bags where smaller items (coins?) could be stored. It likewise had room for wax tablets and styli to write down notes. That was quite handy when collecting. A similar bag, for example, can be seen in the depiction of an alms collector, just like the ones who used to cross the Holy Roman Empire to win financial support of new church buildings and social projects.
Purse. Germany, 2nd quarter 17th century. BN inv. no. T 1160.
In the second half of the 16th century men's fashion changed. The citizen of the world wore short Turkish trousers which provided enough space to hide a small money bag in a trouser pocket sewn in. Hence, there was no need anymore of conspicuously big pockets for reasons of prestige, and they were replaced by small but well-filled bags made of fancy material.
Wallet. France, around 1650-1680. BN inv. no. 96/709.
How much particularly accessories were subject to innovations is attested by the emerging postal traffic developing in all of Central Europe at the end of the 30 Years' War. Sending letters no more was a privilege of those who could afford a personal messenger. Ordinary people as well wrote and received letters. Of course, with that arose the need of a proper bag in order to transport these important documents.
Notecase. France, around 1790. BN inv. no. 88/424, 1-2.
The notecase was born. We still use that word when we refer to those flat purses which today contain bank notes for the most part. That this was already so in the past is testified by a notecase from France from 1790 that the Bayerisches Nationalmuseum houses, which still contained a small sheet of paper with three assignats stating their issue value of 5 livres.
Bags to tie round. England, 1st half 18th century. BN inv. no. 96/601.
The ladies at that time made good use of a new kind of huge money bag that could be worn discreetly underneath the clothes without compromising the slender waist. Two big flat bags were hidden underneath the great coat. A vent in the skirt made it possible to get to the money.
Handle bag. Southern Germany, um 1700. BN inv. no. 4641.
Naturally, that wasn't used in everyday life. Common female citizens used handle bags when shopping, like the one described in the Frauenzimmer-Lexicon from 1715: 'Tasche. Ist ein länglicht runder aus Brocard, Sammet, Plisch (= Plüsch), Damast, Estoff oder anderen Zeug geneheter und an einen silbernen oder stählernen Bügel oder Schloß geheffteter Beutel, den das Frauenzimmer vermöge des daran befindlichen Hackens oder Rings von vornher an die Hüfften zu hengen, und ihr Ausgebe-Geld darinnen zu verwaren pfleget.' That translates as: 'Bag. It is a long and spherical sac, made from brocade, velvet, plush, damask, fabric or other material, sewn and attached to a handle or lock made of silver or steel, which the gentlewoman can wear at her waist thanks to a hook or ring and which she uses to store her money in.'
Marriage purse, Limoges 1724. BN inv. no. 96/714.1.
Considerably more lavish were the purses a newly minted husband gave his wife as present for the wedding. That custom is said to have survived from the Middle Ages – not only in Germany, in France the bourse de marriage were well-known. Not surprisingly, these purses, manufactured exclusively for the mentioned purpose, were particularly nice. The city of Limoges, for example, specialized in manufacturing decorated enamel purses for that special occasion. By the way, the pattern book of Limoges likewise contained purses with the depiction of saintes which makes it likely that these items were given away as presents on the occasion of a christening, then well-filled in all probability.
Money stocking, Southern Germany, 1790-1810. BN inv. no. T1149.
Did your granny, too, hide her savings in her stockings? What I had problems imagining when I was a kid became clear to me at once by the look at the money stockings from the 19th century. That is a special kind of purse, tubular and flexible. Coins could be put in through a vent that was closed again with a narrow ring. The 19th century theory, that this purse stemmed from real stockings, perhaps isn't true – military sashes seem the more likely candidate which were reworked to be used as container for money.
Belt. Northern Tirol(?), 1816. BN inv. no. 37/96.
That would make the money stocking be related to the belt, a Southern German variety of the safe. Just like present-day tourists store their ready money in a fanny packet, wealthy Tyrolean farmers used to store their cash in the 'belt', broad and flat in shape with a tubular sac inside.
Belt bag. Bavaria, dating to 1854. BN inv. no. 34/107.
The progenitor of the modern body bag – worn today by waiters, for example – is the belt bag the more common women used to wear in the 19th century. It originated from the handle bag (fig. 7) and looks pretty modern now.
Wallet of Louis I, King of Bavaria. BN inv. no. 21/164.
Naturally, those wallets also came in a smaller, more delicate version, which also could be put in a sac or travel bag with all the other items required when being on the way.
Purse in the shape of a tin. Southern Germany, ca 1850-1880. BN inv. no. 56/119.
There were many varieties, like small handle bags, little pouches with tieback, enchanting money stockings and any number of special forms like this purse in the shape of a tin.
Which takes us almost into present times. The accomplished lady wore a handbag she kept her purse, keys as well as this and that in. A gentleman favored a wallet that could also be worn inside the jacket. The coins could be stored in the purse or just inside the pocket of the trousers.
If you like to learn more about the topic I would recommend reading the catalog on the collections of bags housed in the Bayerisches Nationalmuseum, written by Johannes Pietsch. He has assembled a catalog that also helps its reader dating purses and wallets, for example prior to an auction sale.
For the wonderful pictures we would like to thank the Bayerisches Nationalmuseum, they all are © Bayerisches Nationalmuseum. Photographer was Walter Haberland, unless specified otherwise.
We warmly recommend visiting the special exhibition in the Bayerisches Nationalmuseum. For further information please click here.
You can place your order for the lavishly illustrated catalog 'Taschen – Eine europäische Kulturgeschichte 1500-1930' (38 euros plus mailing expenses) here.
The Bayerische Nationalmuseum has its own channel on YouTube. Have a look!
https://new.coinsweekly.com/wp-content/uploads/2018/10/9780_70c7a177-1.jpg
297
247
Ursula Kampmann
https://new.coinsweekly.com/wp-content/uploads/2023/01/logo-coinsweekly_590x204.png
Ursula Kampmann
2009-10-14 00:00:00
2009-10-14 00:00:00
Bags – an interesting topic for numismatics, too