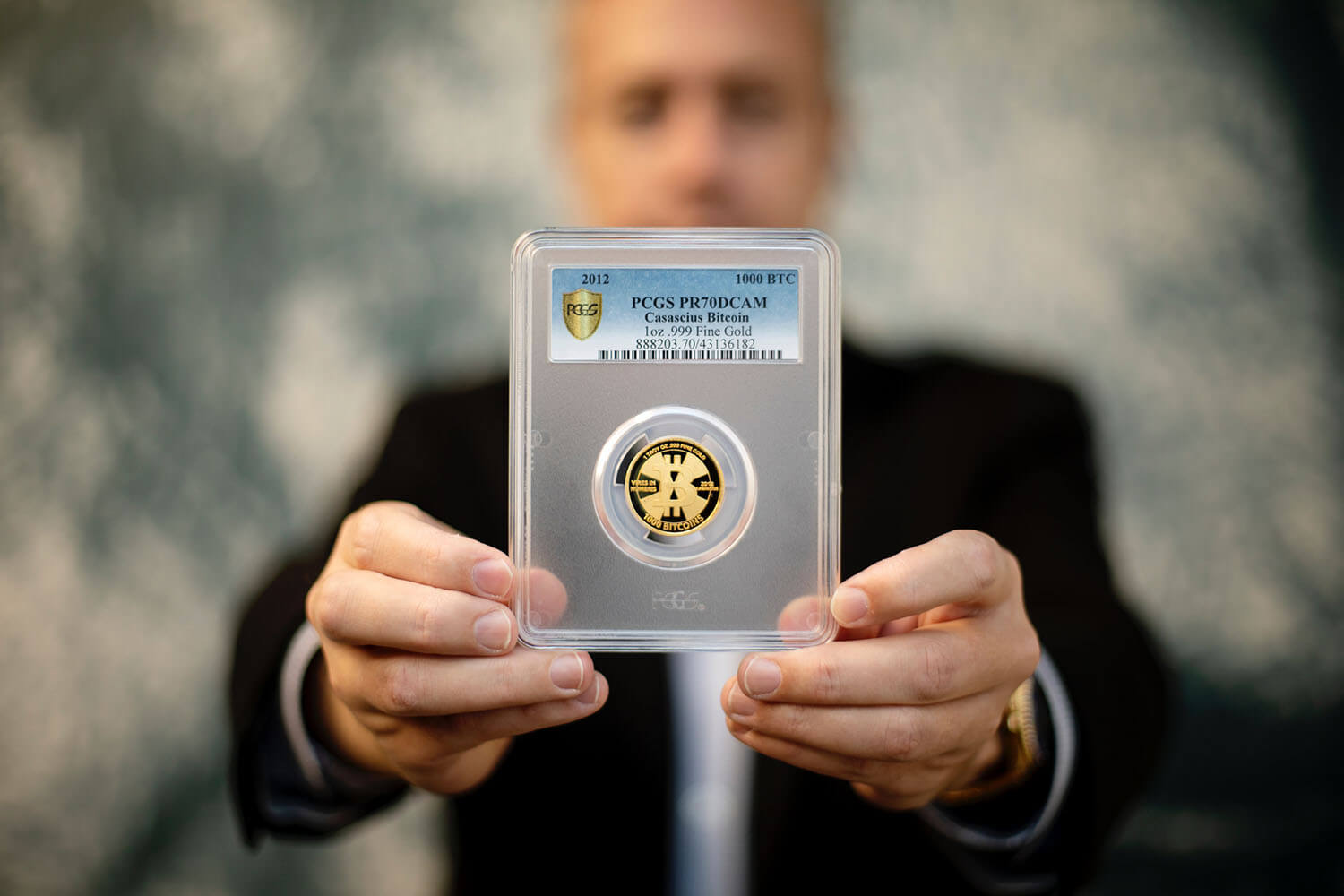 Is the Most Expensive Coin in the World Even a Coin?
In the summer of 2021 the legendary Double Eagle 1933 with its phenomenal provenance was sold for US $18.9 million and has been taken to be the world's most expensive coin ever since. Coin collectors know: When it comes to the world's most expensive coins, US coins dominate the field. But that is not true anymore.
Record after Record
The competition crept up quietly through the backdoor. Because the most expensive coin of all time by far is, technically speaking, not a coin. It is more of a token. The one-ounce gold coin we're talking about is not even ten years old, its owner unknown. The object derives its value from a slip of paper enclosed in it. Printed on the paper is a code which allows you to exchange the equivalent sum of 1,000 Bitcoins. Current value (11 October 2021): 48,986,000 euros.
All traditional coin collectors will be asking themselves: What exactly is this Bitcoin thing again?
Bitcoin – Currency or Speculative Bubble?
Bitcoin is a digital currency which was invented in 2009. While historically precious metals were extracted from physical mines, you could say that Bitcoin was created in digital mines: Computers solve incredibly time-consuming algorithms to create Bitcoins. All operations are decentralized and there is no issuing authority. Data bases record the life of each Bitcoin in detail: Who has created or traded it when. Because that's the whole point: To trade Bitcoins in exchange for services, similar to money.
2013 was a milestone in Bitcoin history. Bitcoin did not only exist on the internet any longer, you could now also use it to pay in the real-world economy, at your corner shop, so to speak. In England for instance, one pizza cost 0.71 Bitcoins back then, that was roughly £12. But the bottom line was that Bitcoin remained above all one thing: speculative. The exchange rate went up one day and down the next, but mainly up because many people believed in its potential. Today 1 Bitcoin is worth almost 50,000 euros. This high value in particular makes it almost irrelevant for everyday transactions.
Coin or Token?
And that brings us back to our record item. Between 2011 and 2013 enthusiastic Bitcoin user Mike Caldwell had an idea: he could produce physical Bitcoins. Caldwell's idea was disarmingly simple: Bitcoins are traded online with the help of a digital key, which is printable as well. If you have this key, you can access your Bitcoins, if you forget it … well, that would be unfortunate indeed.
So Caldwell bought Bitcoins, printed the matching keys on paper, and inserted them into the kind of brass tokens that are used at car washes. Glue a hologram to the obverse as a seal and there you go, you've got a physical Bitcoin.
In 2013, only two years later, the US Department of the Treasury put an end to the project: Caldwell wasn't able to comply with all regulations necessary to produce a physical currency.
Each coin also includes the denomination, i.e. the number of Bitcoins that the key would activate; it spans everything between 0.1 to 1.000 Bitcoins. The 1.000 Bitcoin tokens were minted from one ounce of fine gold and nicknamed "GoldCas" after the company's name Casascius. Only five of these exclusive "GoldCas" were ever issued. Three of them have already been activated as you can see from this list, available online. Only two are still locked. And one of them has now resurfaced!
A Top-notch Speculative Item
The owner of this "GoldCas," who remains anonymous, claims to have found it in his desk drawer after ten years. In the meantime its value has increased some 10,000 times! With the help of the auction house GreatCollections and after implementing strict security measures, he had the coin transported to the grading service PCGS in Santa Ana, California, where it was packaged in a plastic container with the grade "Proof-70 DCAM." "GoldCas" is currently said to be in an overseas safe-deposit box. The owner does not want to sell it, but perhaps exhibit it at some point.
Ian Russell, president of GreatCollections, stated: "It's the ultimate 21st century collectible, merging gold with cryptocurrency; a cultural phenomenon."
Two additional facts for the crypto-experts among our readers: It is said that the inventor of Bitcoin, Satoshi Nakamoto, possesses a large quantity of Bitcoins. Russell heavily emphasized that those are not the Bitcoins in question. And for all those of you who would like to buy such a Bitcoin token: GreatCollections currently also offers a 25-Bitcoin token. Bidding will start at $1 but Russell is convinced that the hammer will only fall once the 1-million-mark has been crossed.
But let's not forget: These Casascius Bitcoin tokens do not derive their value from their rarity but from the Bitcoin exchange rate. It remains to be seen what collectors will be willing to pay for these gold tokens should Bitcoin be worthless one day. Certainly not US $48 million. And that's when the hour of historical money will have come!
If you're interested in understanding Bitcoin in greater detail, have a look at this short film:
Currently still on offer at GreatCollections: the 25 Bitcoin token.
https://new.coinsweekly.com/wp-content/uploads/2021/10/00Ian-Russell-holds-Gold-Cas-1.jpg
1000
1500
https://new.coinsweekly.com/wp-content/uploads/2023/01/logo-coinsweekly_590x204.png
2021-10-14 14:00:19
2021-10-14 14:00:19
Is the Most Expensive Coin in the World Even a Coin?