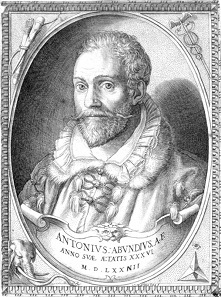 Antonio Abondio – An artist with special talents
Antonio Abondio (b. 1538 in Riva del Garda / Trentino; d. 1591 in Vienna) came from an aristocratic family of Upper Italy and grew up in Ascona (today's Switzerland). His father Alessandro Abondio is also said to have been a wax sculptor.
The Italian medalist and wax sculptor Antonio Abondio the Younger (1538-1591) in an engraving by Martino Rota (1520-1583).
Consequently, the young Antonio learned how to make and handle wax or cast early on. He learned how to make molds for medals and other techniques.
Onesided bronze cast medal for Emperor Maximilian II. By Antonio Abondio. From Sincona auction 47 (May 16, 2018), Lot 1990.
According to some Italian records, Antonio Abondio already did his years of study at age 14 and he went from Tyrol to Vienna in 1556, where he was hired as a portraitist at the court of Emperor Maximilian II.
Bronze cast medal 1566 for Johann VII. Freiherr von Khevenhüller. By Antonio Abondio. From Sincona auction 47 (May 16, 2018), Lot 1993.
Apparently his work as a medalist and artist was greatly acknowledged. This allowed him to stay in Vienna and in Prague later on with Maximilian's son and his successor Emperor Rudolf II.
Silver medal for Emperor Rudolf II, 1576-1612. Model by Antonio Abondio. From Sincona auction 47 (May 16, 2018), Lot 2033.
Emperor Rudolf II of Habsburg (b. 18/07/1552 in Vienna, d. 20/01/1612 in Prague) was certainly a special character. He was very interested in art and science and perceived politics as an inconvenient, additional workload. The longer his reign lasted, the more he resorted to esoterism, alchemic experiments and religious belief in miracles. He mostly neglected his functions as monarch. As an artist, one probably had to have a similarly special character or other, outstanding talents in order to survive at the Prague court. Antonio Abondio apparently managed to do just that and his reputation must have been extraordinary.
Silver cast medal 1586 for Archduke Ernst (b. 1553, d. 1595). Die by Antonio Abondio. From Sincona auction 47 (May 16, 2018), Lot 2054.
On his travels through many European countries, Abondio gained access to many different workmanlike techniques, but he also influenced other artists quite strongly; he is thus known as one of the last major medalists of the Cinquecento and he was a vital part of the development of medals in the Early Baroque. His medals of princes and scholars should also be mentioned. He often created them in Prague for many famous people of his time; he also created the double eagle on the Bohemian and Hungarian coins.
Antonio Abondio. Venus and Adonis and three graces, painted cast wax in conches.
The rare cast wax medallions, which he artfully painted and which are in demand all over the world as extraordinary small artworks, are equally significant.
The medals of the images above and other objects can be found in the online catalogue of auction 47.
https://new.coinsweekly.com/wp-content/uploads/2018/10/32380_d1b0d3e9-1.jpg
297
221
https://new.coinsweekly.com/wp-content/uploads/2023/01/logo-coinsweekly_590x204.png
2009-11-07 00:00:00
2009-11-07 00:00:00
Antonio Abondio – An artist with special talents