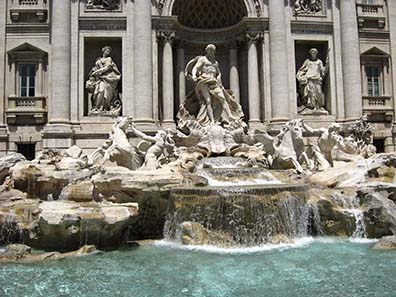 Coins in the fountain well: Trevi Fountain in Rome
A coin thrown in Trevi Fountain is said to ensure the comeback to Rome, two coins thrown ensure romance with a Roman (either male or female), and three coins thrown ensure the marriage with him or her. This is demonstrated in the film "Three coins in the fountain" from 1954 telling the story of three young ladies working in the American Embassy in Rome who throw a coin in the fountain in order to find love.
One coin for coming back to Rome – this is how we were trained, this is what thousands of tourists do each day when standing at Trevi Fountain. Revenues of this superstitious act add up to 600,000 Euros each year for Roman authorities.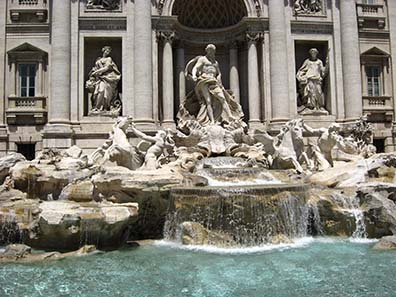 Trevi Fontain – one coin is for coming back to Rome, two for a romance in the Eternal City and three it takes to ensure a marriage with Roman woman or a man, respectively.
This habit actually dates back to the 19th century, and it was founded, who would have guessed, by a German. Back then, Rome was the desired destination for many middle-class travelers who could afford a vacation. Many of these visited archaeologist Wolfgang Helbig (1839-1915), who worked as a private scholar and, most of all, as a dealer in antiquities in Rome (in fact, some modern authors assign him credits for one of the other particularly good forgery). In 1862, he had come to Rome as beneficiary of the German Archaeological Institute and soon got himself a permanent position there. The marriage with Russian princess Nadejda Schakowskoy enabled him to retire from service.
His wife brought him into contact with the sophisticated society for which he hosted jamborees. During one of these festivities he introduced the habit of throwing coins in Trevi Fountain. Most possibly he was inspired by the ancient sacrifices for bridge and spring deities. Travelers, especially from the Celtic and Roman cultural spheres, used to perform sacrifices to the deities residing in a stream. Tourists from Germany loved this custom that aligned themselves with their ancient predecessors. Their travel reports, letters and stories spread it in entire Europe, of course without crediting its inventor. He was almost entirely forgotten (except for archaeologists who still use his guide to the public collections of Classical antiquities in Rome). Up to the present day, some a tour guide presents the German invention as an old Italian folk custom.
The article is based on information from: Lucia Travaini, Monete e Storia nell'Italia medievale, Rome (2007), pp. 278-280.
https://new.coinsweekly.com/wp-content/uploads/2018/10/3925_13bdcb2e-1.jpg
297
396
Ursula Kampmann
https://new.coinsweekly.com/wp-content/uploads/2023/01/logo-coinsweekly_590x204.png
Ursula Kampmann
2009-10-14 00:00:00
2009-10-14 00:00:00
Coins in the fountain well: Trevi Fountain in Rome