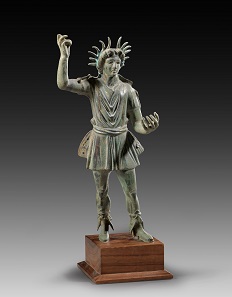 Munich Auction House offers Objects from the Moussaieff Collection
On June 30, 2017, the Munich auction house Gorny & Mosch will offer nearly 100 objects from the collection of world-famous Jewish jeweler Shlomo Moussaieff. These include fantastic bronzes from Greek and Roman times as well as magnificent art works made of ancient glass. Yet the history of these objects is not even as thrilling as the one of the collector who had brought them together over a period of 80 years.
Helios. Roman Imperial times, 2nd / 3rd cent. AD. Bronze hollow cast, H 31 cm. From the Shlomo Moussaieff Collection. With export permission from the Israel Antiquities Authority. Estimate: 80,000,- euros. From Gorny & Mosch sale 248 (June 30, 2017), No 151.
The early life of Shlomo Moussaieff
The early life of Shlomo Moussaieff is novel-like material in itself. Born in Jerusalem under the British Mandate in 1923, he was one of twelve children of an extremely wealthy family from Bukhara. Shlomo had a photographic memory but, due to his dyslexia, performed very poorly in school. When his father threatened to sustain him until his 13th birthday only, in accordance with the Torah, Shlomo ran away at the age of 12 and took care of himself. He earned his living partly by working in a carpet factory in Sanhedria. In addition, he searched the local caves for ancient objects he could then sell. For that, he was arrested and had to spend some time in a reform school.
Youth in a time of war
In 1940, at the age of 17, the young man joined the Jewish underground and fought against the British mandatory government before, like all his comrades, joining the British army by order of Daniel Raziel, to fight Hitler. When the war was over, he resumed the fight against the mandatory government. In 1948, Moussaieff was taken captive and spent a year in Jordan as a POW.
River-god Acheloos. Greek, 4th cent. BC. Solid silver. H 4.7 cm, L 7 cm. From the Shlomo Moussaieff Collection. With export permission from the Israel Antiquities Authority. Estimate: 40,000,- euros. From Gorny & Mosch sale 248 (June 30, 2017), No 154.
A country searching for its identity
After his return, Shlomo Moussaieff, following family tradition, opened a shop for jewelry and ancient art in Jerusalem.
It was a good time for the trade in antiquities, because everybody was interested in the testimonies of the past. Teddy Kollek, Mayor of Jerusalem from 1965 to 1993, collected coins and ancient glass. Moshe Dayan, the iconic figure of the Israel that struggled for its existence, was an ardent collector, too. He even had his soldiers excavating. At that time the 'find context' of a given object was only of secondary importance. To Israel, a state that had just been born, it was more important whether or not an object or an excavation find could serve as proof of what the Bible told. Every relation was considered an argument for the Jewish claim to Israel. The collector Shlomo Moussaieff was also influenced by this zeitgeist. He assembled his collection in Jerusalem since 1948 and in London since 1963. His passion focused on objects related to the Bible and the Holy Land in particular. He wanted his objects to illustrate the spirit and everyday reality of the biblical stories. Having been assembled with great expertise, his collection ranges among the largest and most important collections of biblical antiquities of our time.
Moving to London
In 1963, Shlomo Moussaieff opened a branch in the London Hilton. An anecdote reveals how this had happened: A descendant of the Maimonides, the antiquities dealer was proud to possess some autographs of this famous scholar of the Torah. The Chief Rabbinate of Israel intended to acquire these autographs for its museum. Teddy Kollek, who was a member of the Ben-Gurion government at the time, acted as an intermediate. He promised Moussaieff a rent-free shop in the Jerusalem Hilton in exchange for the autographs. Moussaieff agreed. The director of the Hilton, on the other hand, did not. So, the deal was made with the London Hilton. Shlomo Moussaieff moved to London and became the jewel supplier of the High Society.
"I am a merchant, a street-brawler, and a Jew. And I am proud of all three."
Moussaieff, who spoke Arabic fluently, became the favorite supplier of exclusive jewelry, not only for wealthy Arabs. He started trading in colored diamonds. Many famous stones went through his hands or bear his name. He was the dealer to buy from also for film stars such as Elizabeth Taylor, Peter Sellers, Shirley McLaine, and Frank Sinatra. The trade made him rich. In 2011, he was ranked No. 315 on the Sunday Times Rich List.
Lot 234: Oceanus-shaped bronze lamp with attachment in the shape of a ship. Roman, 1st-2nd cent. AD. From the Shlomo Moussaieff Collection. With export permission from the Israel Antiquities Authority. Estimate: 50,000,- euros. From Gorny & Mosch sale 248 (June 30, 2017), No 234
The collector
Thus, Shlomo Moussaieff had the means to build the collection of ancient objects he wished for. Before his death in 2015, he owned the largest private collection of Middle Eastern objects, comprising more than 60,000 items. According to well-known archaeologist Robert Deutsch, 3,000 of his objects have a connection to the Bible.
Many curators and archaeologists appreciated him for his generosity. He provided funding for excavations, for example in Megiddo and Tel Gath. He always made his collection accessible to interested researchers for their publications, and then even bore the printing costs. Objects of his collection were exhibited in the Israel Museum and the Bible Lands Museum. In 2000, Bar-Ilan University of Tel Aviv awarded him an honorary doctorate, for the generosity he showed when he gave the university rare documents for the study of the Kabbalah. His important collection of biblical seals and bullae as well as his Byzantine eulogia glasses were donated to the 'Israel Antiquities Authority', to be exhibited in the Moussaieff Gallery in the new campus of this institution in Jerusalem.
Multi-handled bottle. Eastern Mediterranean, 6th cent. AD. Greenish clear glass. H 22.6 cm. From the Shlomo Moussaieff Collection. With export permission from the Israel Antiquities Authority. Estimate: 18,000,- euros. From Gorny & Mosch sale 248 (June 30, 2017), No 426.
The collection
In keeping with the collector's wishes, his objects will not be given to an institution in their entirety. Rather, they will be sold at auction. He once said in an interview: "Museums put everything in storage. My wife should auction my collections to people who will not put them in cellars but will love them like I do."
A first part of the collection was auctioned at Christie's in London on June 30, 2016, after parts of it, with works from the Ennion workshop, had been exhibited at the New York Metropolitan Museum. A second part, the Judaica, was auctioned by the New York branch of Sotheby's. Just 286 in number, the lots sold for far more than $5 million, including some record prices. Other glasses were auctioned by Pierre Bergé in Paris.
Now another part of the collection will be auctioned at Gorny & Mosch in Munich. All objects on offer have an export license from the Israel Antiquities Authority, so that their purchase and sale meets the strict requirements of the new German Cultural Property Law in every respect.
For further information and photos, please contact Gorny & Mosch, Munich, Maximiliansplatz 20, 80333 Munich, phone: +49 89 24 22 643-0.
The Gorny & Mosch sale 248 at which these objects will be offered can be found here.
And the relevant CoinsWeekly auction preview can be read here.
https://new.coinsweekly.com/wp-content/uploads/2018/10/27781_638ac730-1.jpg
297
232
https://new.coinsweekly.com/wp-content/uploads/2023/01/logo-coinsweekly_590x204.png
2009-10-14 00:00:00
2009-10-14 00:00:00
Munich Auction House offers Objects from the Moussaieff Collection