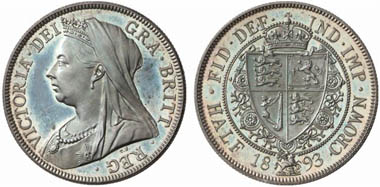 Queen of an Empire: Victoria
by Björn Schöpe
courtesy of Barbara Balz / World Money Fair
A love match was unusual for a queen in the 19th century. But Albert, that young German prince, had captured Victoria's heart. In the first years of her reign, she had relied on her mentor, Lord Melbourne. After marrying Albert, in 1840, her husband became her closest adviser, though. Together with him, Victoria ruled as constitutional monarch over more than one-fifth of the world and one-third of its population. Her reign lasted for two generations, so the period is remembered until today as the Victorian era.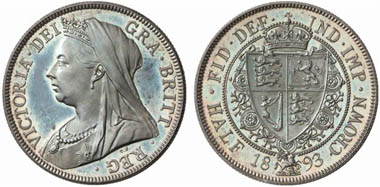 Victoria (1837-1901). Half-crown 1893, London. From Künker auction 131 (2007), 4189.
The 19th century saw Great Britain as the most powerful nation in the world, whose empire stretched over all continents. Endorsed by an act of parliament, in 1877, she took the title of Empress of India – IND(iae) IMP(eratrix) Victoria – as can be seen on this coin. The British Empire was full of self-confidence, always ready to enforce its interests with gunboats. Following industrialisation, Britain became the "workshop of the world". A well- developed railway network connected industrial centres and seaports all over the country. Charles Dickens describes the dark side of those times – the lives of the poor and their children, exploited in factories. Against this background, trade unions and the Labour party emerged. To keep the family afloat, an increasing number of women were working as well. Therefore, they demanded political rights. The British women's suffrage movement turned into the spearhead of emancipation, even though it was not until 1928 that the United Kingdom granted women the unrestricted right to vote.
It seemed that Victoria did not take much notice of these things. For most Britons, her consort Albert always remained the unpopular German. Upon his early death in 1860, Victoria retreated into mourning. As a widow, she hardly appeared in public anymore, except at inaugurations of monuments commemorating Albert. Despite her obstinacy, Victoria after all was a modern monarch. In her early reign, she once appointed a prime minister against the will of Parliament. It should never happen again. The empire was governed by the ministers and the role intended for her was, above all, representative. Only in later years, she regained popularity due to more public appearances.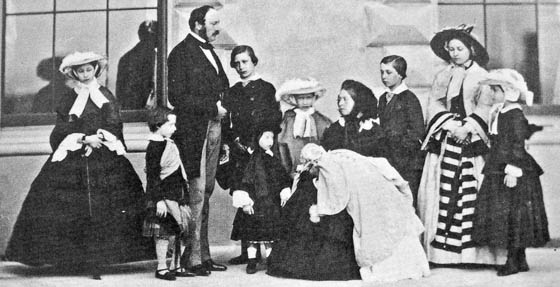 Prince Albert, Queen Victoria and their nine children. From left to right: Alice, Arthur (later Duke of Connaught), The Prince Consort (Albert), The Prince of Wales (later Edward VII), Leopold (later Duke of Albany, in front of the Prince of Wales), Louise, Queen Victoria with Beatrice, Alfred (later Duke of Edinburgh), The Princess Royal (Victoria) and Helena, 26.5.1857. Photo: Caldesi und Montecchi / Wikipedia.
Her numerous offspring caused huge expenses, parliament was not willing to bear. Unwaveringly, she tried to establish a network of marriage connections all over Europe to preserve peace. When she died in the arms of her grandson, the German Emperor William II, in 1901, she did not know that imperialism would soon plunge the world into a war.
This article was written for the catalogue of the World Money Fair 2012 whose Guest of Honour was Great Britain. More on the World Money Fair 2012 you can read here.
https://new.coinsweekly.com/wp-content/uploads/2018/10/6044_d9d08c2e-1.jpg
187
380
Björn Schöpe
https://new.coinsweekly.com/wp-content/uploads/2023/01/logo-coinsweekly_590x204.png
Björn Schöpe
2010-06-10 00:00:00
2010-06-10 00:00:00
Queen of an Empire: Victoria