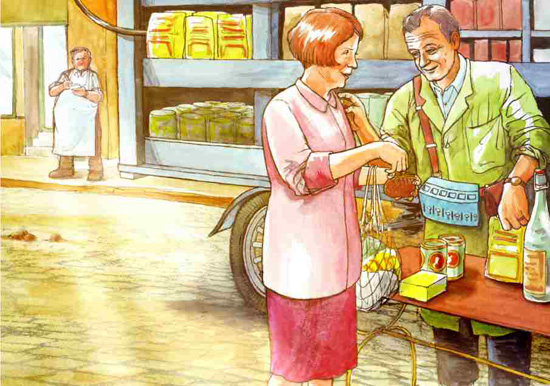 The People of Zurich and their Money 15: Migros causes revolution in food retail sector

by courtesy of MoneyMuseum
Our series "The People of Zurich and their Money" takes you along for the ride as we explore the Zurich of times past. In this episode you will listen to a Migros seller and a modern housewife talking back in 1925. Much like a good DVD, this conversation comes with a sort of "making of" – a little numismatic-historical backdrop to underscore and illustrate this conversation.
A Saturday in September 1925. A Migros-salesman and a housewife are talking to each other. Drawn by Dani Pelagatti / Atelier bunterhund. Copyright MoneyMuseum Zurich.
Migros-salesman: What's going on? On normal Saturdays my five minutes aren't long enough to serve all of my clients, and today you're the only one.

Housewife: Just turn to the right, then you'll see what's going on.

A man is watching us.
Indeed. This is the grocer who owns the shop over there. He notes all clients who are buying at the Migros-van.
And why does he do that?
We all aren't rich, and occasionally the money is spent before the next payday comes around. Then we have to buy on credit. Last week he told us all that he won't be able to give any more credit to those who're buying at the Migros. Scoundrel!
Poor fellow. He realizes that he can't compete with us.
Why? The migros products are about 25 % cheaper, so he makes a profit of 25 % on his goods.
No that's not true. He really needs his price. His overheads are much higher compared to ours.
Why?
For example the purchase. We get our products directly from the producers. This spares the cost the wholesaler charges. Then we offer only six products: Sugar, noodles, coffee, rice, soap and coconut fat. These are products which everybody needs every day. We can sell them fast and they are not perishable. So no costs accrue from spoilt goods. And everything is fresh at the Migros because of its fast turnover.
I realized it. The rice I buy at the grocer's shop always smells a little bit fusty.
After all, a shop! Our Migros-vans are means of transportation and stores in one. I'm simultaneously forwarding agent, salesman and cashier. If you've a normal shop, you will have to pay the lease, the fittings, the employees. The client gets a better service, but he has to pay dearly for it. At the Migros everything is rationalized. Normally I don't have the time to chat. The only conversation is: a parcel of lump sugar, two parcels of coffee.

By the way: I need a kilo of coffee, two kilo of rice and two kilo of powdered sugar.
With pleasure. (break) That comes to 6 francs 40.
Here you are. And I won't allow a bird like the one over there to intimidate me. I will stick to the Migros. After all, I have to economize.
Our boss always says that he has a lot of reliable allies: all the bright housewives of Zurich. They will help his idea to win.
Switzerland. 5 franks 1925 B, Bern. From auction sale Fritz Rudolf Künker GmbH & Co. KG 217 (2012) 3084.
Making of:
It was on August 25, 1925, when the first five trucks of Migros AG, refitted to become a mobile point of sale, were put into service. These shops on wheels were by no means an ingenious advertising stunt but an emergency solution. The start-up capital of Migros AG adding up to 100,000 franks simply hadn't been enough to establish any permanent shops. The idea of Migros – radical cost control to allow a low retail price – proved to be successful. It took Migros only a couple of years to revolutionize the food retail sector.
Main shareholder of Migros was Gottlieb Duttweiler, 37 years of age back then and already an experienced businessman. He had worked his way up, starting as an apprentice in a grocers shop to become coproprietor later; after that shop was liquidated, he went to Brazil to take his chance. His attempt to establish a farm for the production of coffee, sugar and rice to be exported, however, failed miserably. But it was thanks to his know-how as coffee manufacturer that Duttweiler had a crucial experience that led to the foundation of Migros: "Once I returned home to Europe I was amazed to learn that the overseas farmer, although he had so bothered with harvesting the coffee, didn't gain more profit than the seller in Switzerland who merely handed the coffee over the counter.
Duttweiler turned to Zurich's Statistical Office to investigate the reasons why the shopkeepers in Zurich had to take such margins into account. He found 12 significant expense factors with the potential to save considerable sums of money: 1.) too many trademarks of the same product; 2.) high warehouse costs; 3.) expensive storage facilities; 4.) spoiled goods due to being stored too long; 5.) high freight charge and expenses due to purchase of small amounts only; 6.) price dictate by the manufacturer of trademarked goods; 7.) expensive shop rents; 8.) expenses for rebate systems; 9.) expenses for home delivery; 10.) loss of time due to expensive service; 11.) loss of time due to sale in minimal amounts; 12.) loss of interest because of credits being granted.
This, almost scientific, consideration of all cost factors wasn't new. In America, concepts aiming to rationalize production and distribution had already been established, and in Switzerland, too, many producing companies, which were under cost pressure due to the 8 hour day being introduced, began to streamline their workflow. Duttweiler was the first to apply these new ideas on retail business. Systematically, he avoided all cost he had revealed to be redundant before. There was no such thing as trademarked articles with Migros. The product range was small, and the goods on offer were non-perishable. The goods were purchased in large quantities from the manufacturer, and the sale itself was completed without any human ado: the trucks with their Spartan assortment stopped for five minutes only at the points of sale. All customers had to be served in just these five minutes. That was possible because only packaged goods were handed over the counter. The buyer abandoned rebates and credits and transported the goods home on his own. In turn, he could expect the price being reduced about 12-24 %, in comparison to what he would have had to pay at the competitors. It comes as no surprise, then, that the "housewife who is on a budget" and the "clever lady able to keep an eye on the budget", as we have labeled the female protagonist of our audio drama in the style of Migros' early promotional brochures, liked to do their shopping at the new 'discounter'.
Switzerland. 20 franks 1926. Bern. From auction sale Gorny & Mosch 197 (2011) 6247.
The Migros concept became a big hit. Over the course of only eight years, between 1925 and 1933, sales increased from 800,000 franks in the first four months to 51,800,000 franks. In 1933, the Swiss population was supported no more by 5 Migros trucks but by 41 mobile points of sales. In addition, 98 shops had come into being with 245 different products available for sale. After just eight years, Migros had managed to capture a market share equaling 30 % of what all retail cooperatives realized together, and they had been in the business for decades. Thus, Migros AG had become the crucial factor that threatened the existence of numerous retails sellers.
Economically speaking, they had nothing to offer in reply to the Migros concept. The overhead costs of the Migros competitors really were too high to enter the price fight. Hence, the resistance amounted to nothing more than the use of violence and repression: "they parked on stops, threw spikes, even dung, and they slit open tires; our staff wasn't just molested – it even became victim of violent acts: in St. Gallen a chauffeur seller and a branch manager were being shot at; in Tessin a driver was thrown into the lake; customers were being jotted down, taken photographs of, cowed by presence, not being served on credits afterwards." It is this text that had inspired us to this audio drama scene.
Another instrument of the retail sale was to coerce the supplying companies into applying a delivery blockade for Migros under threat of boycott. In this situation, Duttweiler, having leant the business in the purchasing department once, proved to be quite resourceful. When there was no chance of getting noodles in Switzerland, he imported 'real Neapolitan' spaghetti. Oat flakes he got from Scotland, cooking oil from France, chocolate – albeit of poor quality – from Germany. The latter prompted Duttweiler in 1930 to establish his own company for the production of chocolate. This belligerent company policy was so successful that Duttweiler said that his competitors deserved a monument for all their impetuses to make Migros AG develop so rapidly.
Migros tower situated at Zurich Limmat Square. Source: private photograph / Wikipedia. http://creativecommons.org/licenses/by-sa/3.0/deed.de
Migros' expansion came to a preliminary halt as late as 1933, but it wasn't thanks to any successful counter measures of its competitors but due to a change in the political climate. In 1933, the politicians no longer regarded the inexpensive supply of the poorer people an important goal. It seemed more important to artificially secure the income of a great part of the threatened middle class. After all, the industrial middle class was considered supporter of the now desired conservative – and, naturally, national – ideas. Consequently, the so-called Filialverbot (branch prohibition) was issued, a law that prohibited the establishment of new branches as well as the expansion of existing shops. In this way, the expected growth of Migros was artificially restricted. The law was abolished only when World War II was already over. Migros managed to become the biggest company of Switzerland, with 79,688 employees, sales per year adding up to 20.4 billion CHF and a market share of 25.1 %.
In the next episode of this series, bearing the title "Free money for free citizens", we will learn how Swiss citizens tried to make good use of the concept of Free Economy in the 1930s in order to save the domestic economy.
You can find all other parts of the series here.
The texts and graphics come from the brochure of the exhibition of the same name in the MoneyMuseum, Zurich. Excerpts with sound are available as video here.
https://new.coinsweekly.com/wp-content/uploads/2018/11/9041_49e420b6-1.jpg
386
550
Ursula Kampmann
https://new.coinsweekly.com/wp-content/uploads/2023/01/logo-coinsweekly_590x204.png
Ursula Kampmann
1970-01-01 00:00:00
1970-01-01 00:00:00
The People of Zurich and their Money 15: Migros causes revolution in food retail sector