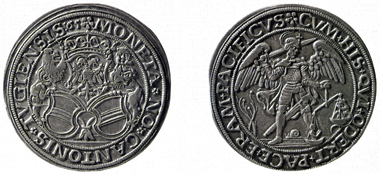 The schneckentaler from Zug
A popular topic, especially on church doors depicting Judgment Day, is St Michael weighing souls. In eternity he ensures divine justice to the frightened believer. Looking attentively at the balance one notices that in the right, the righteous scale pan a pious soul is sitting both hands raised in praying gesture. On the left, the bad, the devil's side lies the millstone of sins. The more bad action in lifetime, the heavier the millstone will be, which is used at the judgment of the dead. But to make things even worse a small devil tries to further weight down the scale pan dragging it down. However, he stands no chance because Michael is keeping watch that no soul is wrongfully 'weighed in the balances, and art found wanting'.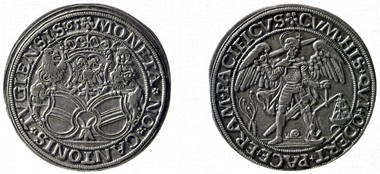 ZUG. So-called "schneckentaler" (28.36 g) 1565 by Jakob Stampfer. MONETA NO CANTONIS TVGIENSIS 65 Two lions hold the crowned imperial shield over the two shields of Zug. Rv. CVM HIS QVI ODERT PACE ERAM PACIFICVS (= I remained peaceful to those who hated the peace.). St Michael in front view holding sword and balance, between his legs a snail. (Wiel. 2; Cor. pl. XX, 8; Divo 67; Dav. 8769). Copyright Sturzenegger Stiftung / Museum zu Allerheiligen Schaffhausen.
The name of this taler from Zug derives from the odd small snail between the archangel's legs. It might be a sign of the mediaeval engraver's horror vacui, the fear to leave any area blank. But at the same time it is a code that any illiterate person could understand in the 16th century; however, today we have to deduce it again painstakingly with the help of iconographical dictionaries. Here the snail means resurrection of the flesh. Due to the form of its shell resembling to the spiral uterus of many animals the snail was not only a symbol of love but also of birth and rebirth. From time to time we find it still as burial object in the Carolingian period. The withered tree in the background may hint at death itself.
This taler's dies were made by the then very famous engraver Jakob Stampfer for the town of Zug. That fact and the face value which is very uncommon for Zug indicate the intention of a representative issue. At this time the Swiss cantons were at the climax of the confessional conflicts. In this very year 1565 Zug and the other four catholic towns formed an alliance with Pope Pius IV guaranteeing each other reciprocal support in case of attack by the Reformed cities. Hence what could be more appropriate than recalling that after death every man must answer for his actions.
https://new.coinsweekly.com/wp-content/uploads/2018/10/6505_fb72832d-1.jpg
174
380
Ursula Kampmann
https://new.coinsweekly.com/wp-content/uploads/2023/01/logo-coinsweekly_590x204.png
Ursula Kampmann
2010-07-28 00:00:00
2010-07-28 00:00:00
The schneckentaler from Zug