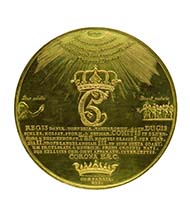 The most beautiful depiction of a ship in numisnautics
by courtesy of the Berlin Coin Cabinet
on the occasion of its exhibit "Gold Giants"
The medal was produced during the Scanian War, which had broken out in 1675 and had came to an end when the Peace of Lund was declared in 1679, which rooted in the opposition between France and Brandenburg.
Representational medal of 360 ducats, 1677. Christian V, King of Denmark (1670-1699), in celebration of the Danish victories at sea, medallist Christoph Schneider (Germany – 1701 Denmark), gold, 1258.85 g, 129 mm, 12 h. Vienna Coin Cabinet, inv. 249 bß.
The translated multiline legend under the monogram reads as follows: "After, by divine providence and under the lucky reign of the most noble and most powerful prince and master, King of Denmark, Norway, the Vandals and the Goths, Duke of Schleswig, Holstein, Stormarn and Dithmarschen, Count of Oldenburg and Delmenhorst, the enemy fleet was defeated three times, I at Öland, II at Langeland, III at the Køge bay, and after eleven war ships of the heaviest kind together with all their equipment were captured, this crown was won."
The legend refers to the three naval victories of Denmark under Admiral Niels Juel over the Swedish fleet in 1676 and 1677, namely the victories of Øland (June 1st, 1676) and Langeland (June 1st, 1677) as well as the one of the Køge bay south of Copenhagen (July 1st, 1677). The legend is parted by a corona navalis, a head gear with the foreparts of ships reserved for victors at sea, which the legend explicitly refers to.
The reverse shows the naval battle at the Køge bay, it is the most magnificent depiction of a ship on a medal known to exist. The artist's signature can be read on the ship painted on the left-hand side. Designing this piece, the medallist Christoph Schneider who presumably came from Germany and worked in Copenhagen created the largest struck medal ever. Although some pieces of comparable size were produced in the 18th century (amongst others by Friedrich Marl in Berlin in 1719), this one is the undisputed gold giant of historical medals thanks to its enormous weight. It is hard to surpass its technical and artistic execution with the relief being unusual high for struck medals. The die cutter distinguishes himself by his extraordinary passion for detail and accomplishes a marked depth effect with the contrast of the plastic three-dimensional ships in the foreground and the flatter cutting in the background. This representational medal belongs to the old inventory of the collections of the House of Habsburg. Admittedly, its origin is unknown but a high of number of gold medals of highest quality were incorporated into the Imperial inventory with Franz Stephan of Lorraine from Lorraine works of art.
This gold giant can be viewed in the exhibit of the Berlin Coin Cabinet bearing the same title. For more information click here.
https://new.coinsweekly.com/wp-content/uploads/2018/10/2077_beb1ac88-1.jpg
222
190
https://new.coinsweekly.com/wp-content/uploads/2023/01/logo-coinsweekly_590x204.png
2010-11-10 00:00:00
2010-11-10 00:00:00
The most beautiful depiction of a ship in numisnautics