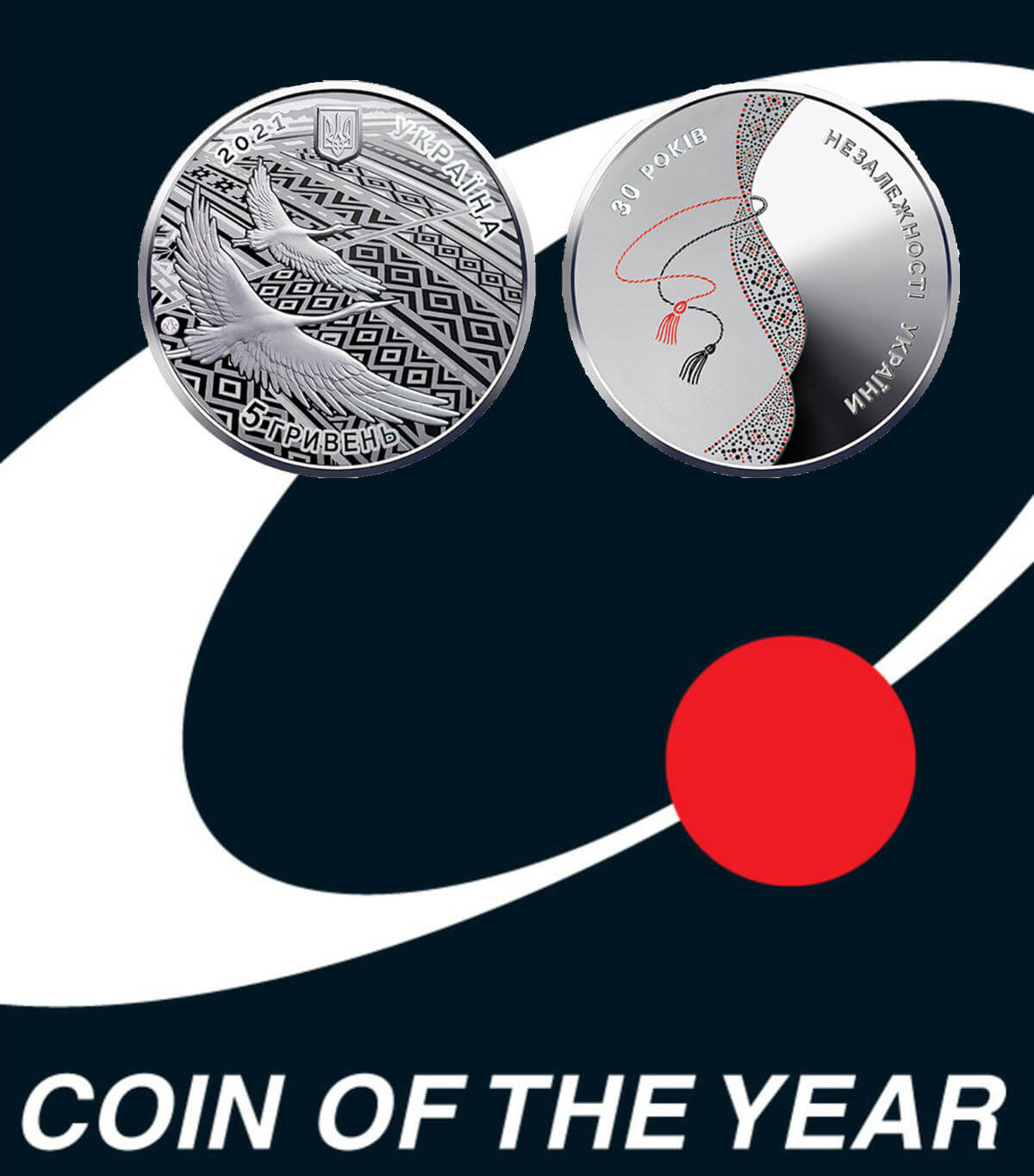 Ukraine Wins Top Coin of the Year Award 2023
Competition was tough for the Coin of the Year competitors 2023. The 10 category wins had numerous close calls in voting, with Canada, Ukraine and Austria all pulling ahead with multiple wins.
The Coin of the Year program is an internationally conducted competition presented by World Coin News to recognize and encourage outstanding coin design and innovation worldwide. The 2023 program, sponsored by The Journal of East Asian Numismatics, honors coins dated 2021 in 10 categories of competition as decided by an international panel of judges.
The COTY staff waited not-so-patiently for the results to come in. With more than 100 individuals carefully selected for the judges panel from all over the world, it was anyone's guess on who would come out on top. Winning by a landslide by the time the last vote was counted was the Ukrainian 30th Anniversary of Ukraine's Independence.
"Interest in Ukrainian coinage ran high with the COTY Nominating Committee in this year's competition as the National Bank of Ukraine's Banknote Printing and Minting Works received seven nominations through six of the 10 categories. The Judges Panel also took great interest in these selections, voting them into wins for Best Contemporary Coin and Most Artistic Coin," stated Thomas Michael, COTY coordinator, World Coin News contributor, and NumisMaster market Analyst.
The winning coin has a stunning design, worthy of its Most Artistic category win. On the obverse, storks are seen flying over a field of traditional Ukrainian textile patterns. Ukraine's coat of arms sits at the top of the design. The reverse features an embroidered band resembling a strand of DNA, symbolizing the nation's code.
"A delicately colorized and beautifully designed 5 Hryvnias, the Most Artistic Coin winner, commemorating the 30th Anniversary of Ukraine's Independence, won the top COTY award by a landslide in which the coin received 30 percent of total votes, more than doubling its closest competitor. It is very unusual for the overall COTY Champion to win by that large a margin," said Michael.
Alongside their overall win, Ukraine also stole the spotlight in the Best Contemporary Event category with their coin celebrating the 25th Anniversary of the Ukrainian Constitution.
A ceremony will be held to honor the 2023 COTY winners.
Here you can find a complete list of the 2023 Coin of the Year category winners.
https://new.coinsweekly.com/wp-content/uploads/2023/02/00-COTY2023-1.jpg
1365
1200
https://new.coinsweekly.com/wp-content/uploads/2023/01/logo-coinsweekly_590x204.png
2023-02-16 09:35:50
2023-02-16 09:35:50
Ukraine Wins Top Coin of the Year Award 2023