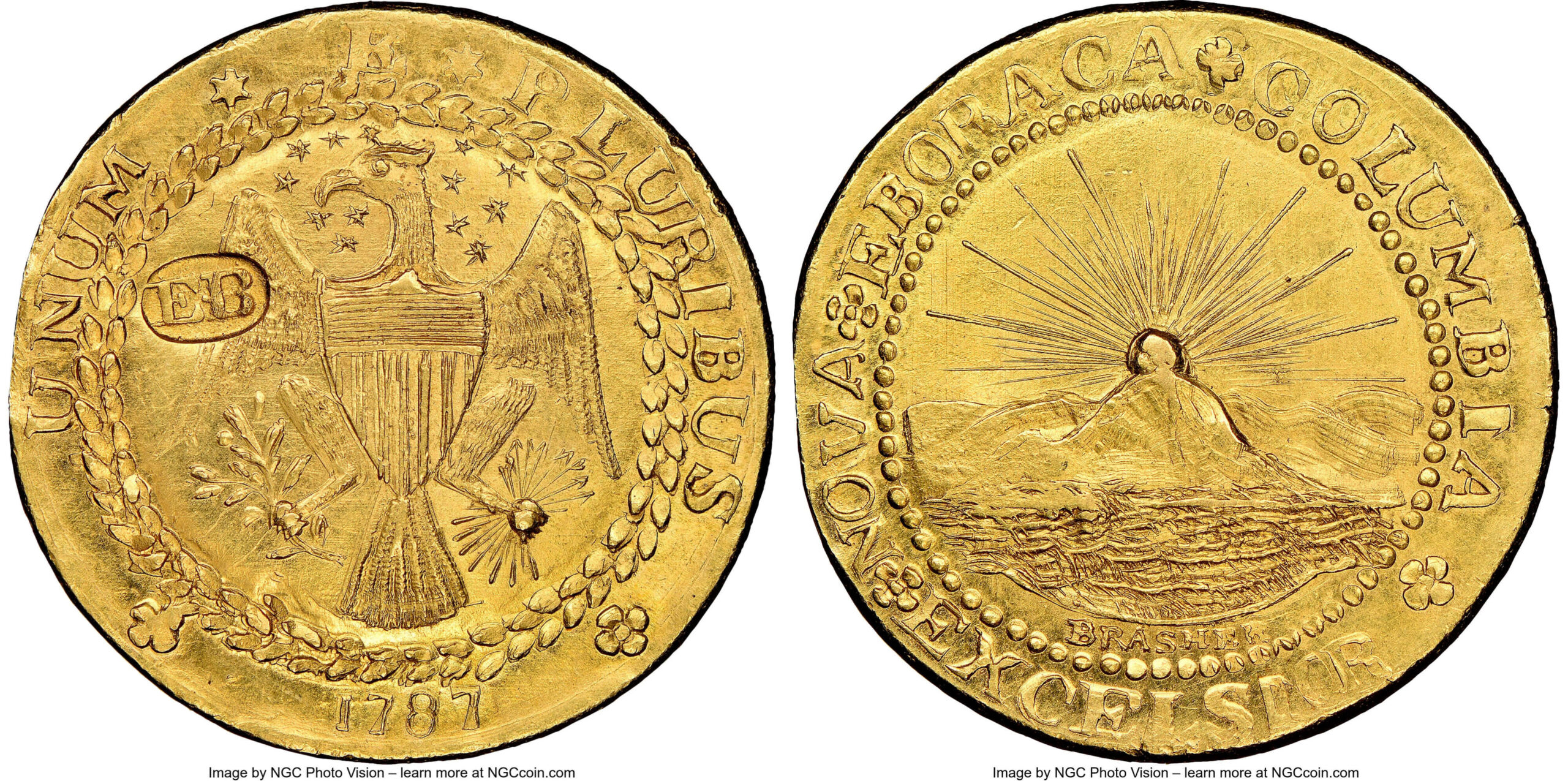 $9.36 Million: Why the Brasher Doubloon Is the Most Expensive Gold Coin of the World
On 21 January 2021, the US auction house Heritage set a new record for a Brasher Doubloon at $9.36 million. Thus, this icon of US numismatics far surpasses the former record holder, a 1933 Double Eagle sold in 2002. In 2002, the coin had been sold for the impressive amount of $7.59 million and held the record for about twelve years.
Of course, that's all very impressive but such prices are not made up out of thin air. Let's look at the five reasons why this Brasher Doubloon, of all pieces, became the world's most expensive gold coin.
Reason 1: The Numismatic Importance
There's no arguing about it. The Brasher Doubloon is undeniably of high numismatic importance, even though it is not technically speaking a legal tender coin but a private bar in the shape of a coin. Responsible for it was the New York silversmith Ephraim Brasher (*1744, + before 26 April 1828), about whom there is quite a lot to know. What many people find most fascinating is the fact that, for about a year, from 1789 to 1790, he lived next to George Washington, who bought four silver spits from him in 1792 – as an invoice proves. Whether that's enough to assume that he was a "friend" of George Washington, as has been claimed time and again, well – you decide.
What we do know is that Ephraim Brasher fought for the United States in the War of Independence and assumed public office after the end of the war. He also worked for the newly founded Philadelphia mint as assayer, as we know from surviving coins with punches showing his initials.
In order to understand how the Brasher Doubloon came about, you have to remember one thing: There was a severe shortage of cash in the young United States. Everybody knew that. Ephraim Brasher must have thought about how to make a business from that shortage – just like all the private mints did that minted bullion coins during the California Gold Rush.
That's why he experimented with ways of replacing the Spanish gold coins that made up the majority of gold coins in circulation in the United States. We know these Spanish pieces from pirate films, namely as doubloons, i.e. the double of a peso de a ocho weighing 16 "talers", a word whose American pronunciation eventually corrupted it and turned it into "dollars". Today, these coins are called Lima Style Doubloons and even though they were minted earlier than Brasher Doubloons, they aren't that famous.
The Brasher New York Style Doubloons, the coin type our record piece belongs to, were minted a year later. Brasher's idea of designing one side to resemble the seal of the United States of America was a stroke of genius. Back then, that wasn't a crime yet – and voilà, numismatists refer to the coin as the first gold coin of the United States. Which it most certainly is not. But it sounds much more impressive than saying that the Great Seal of the United States was just a really smart choice for a coin motif.
Reason 2: Many Potential Collectors
Heritage Auctions created a wonderful article for the Brasher Doubloon presenting all known pieces with photos. It shows that only seven specimens of this coin have survived to this day. That in itself is not terribly exciting. In numismatics there are many coins that are much rarer and can still be purchased for 100 or 200 euros. The reason is: rarity is relative. Just take the coins of the Roman provinces as an example: In this field, unique pieces abound. Unfortunately, buyers of these unique coins are just as rare as the coins themselves, which means that their rarity doesn't influence the price.
US coins are a different matter altogether. There is an enormous potential of collectors, which means that seven specimens, of which two are kept in museums and one is lost, is a really small number.
Reason 3: The High Window and the Brasher Doubloon
Let's be honest: Do you know any other coin besides the Brasher Doubloon that stars in a movie? And not just any film – a Chandler film about the charismatic detective Philipp Marlow? The better-known of the two movie adaptations with George Montgomery and Nancy Guild was released on 6 February 1947. Ever since, this coin has been part of popular culture. For most people, the name certainly rings a bell. And the fact that coins that are known to a broader public are likely to command higher prices, is not news. That includes top prices paid for the Tribute Penny, as a denarius of Tiberius is called in the United States because people want to associate it with the New Testament, to coins of Pontius Pilate. Both coin types aren't exactly rare, and clearly overpriced considering how common they are. And now please don't act surprised either when I tell you that the most expensive Roman coin is the famous EID MAR Aureus, of all pieces.
The price of the Brasher Doubloon is therefore – and perhaps primarily – the result of an excellent PR campaign launched by Raymond Chandler.
Reason 4: More Investors Than Collectors
Let's face it, not everybody can pull $9.36 million out of a hat, I mean, out of their pockets. John Doe can't afford coins like the Brasher Doubloon. And even the super-rich will think long and hard before spending $9.36 million on a hobby like that instead of buying an island in the Pacific.
However, since the 70s, coins have no longer been considered "merely" collectors' items but investments meant to bring returns. This is what Jeff Sherid told a webzine called Robb Report when a Brasher Doubloon was sold in 2015: 'The coveted coin has flipped between collectors just a handful of times, exponentially increasing in value with every sale. It sold for $625,000 in 1981, $2.99 million in 2005 and an impressive $7.4 million in 2011. The current owner, a former Wall Street executive, purchased the Brasher through PCAG Inc. for an undisclosed sum in a 2015 private transaction. 'He saw the coin for what it was: a huge investment,' Sherid says. 'We always knew that at one point he was going to sell it – he's not a collector, he's an investor – and the market on ultra-rarities has been strong.' The Los Angeles-based firm is currently offering the coin privately at an asking price of $15 million, though Sherid believes it could reach $100 million in the future. The firm says it has received a number of serious inquiries.'
Alas, what most buyers seem to forget is that up is not the only direction coin prices can go. They might go down just as well. Just think of the dramatic losses that the notoriously ill-advised Hunt brothers made with their coin collection. Even though coins from their collection achieve record prices every now and then, they didn't do so in 1990 when the collection was sold but in times of a booming market as we have it today.
Reason 5: Covid-19 and the Fear of Inflation
And that brings us to the last and most important reason why this coin achieved a record price in our current situation. It's not the only coin to do so. During the last year, there has been a new record price almost every week. We recently told our readers in an editorial that the British coin type Una and the Lion, which is very popular with investors, set three record prices in a row within the same year. And that does not only apply to such investment rarities: In 2020, the most expensive German taler was sold.
Not to forget the most expensive Nuremberg pfennig at 310 euros. Doesn't float your boat? Well, we believe it should. It's remarkable that people are willing to pay much more for specimens from all parts of the spectrum – even for usually affordable coins such as a well-preserved Nuremberg pfennig. It indicates that many people are about to lose faith in the value of their money. That shouldn't come as a surprise, considering that billions are being pumped into the economy worldwide to cushion the impact of Covid-19…
The reasons why the Brasher Doubloon became the world's most expensive gold coin, then, are manifold. And we are curious to see what price this coin will fetch when it changes hands once again.
If you're interested in the historical background of the Brasher Doubloon, we recommend the ANS podcast.
Heritage meticulously covered the history of the object, of course with the purpose of making the piece seem even more attractive. But you will still find many fascinating details about the history and the price of the Brasher Doubloon.
And last but not least, you can watch the movie "The Brasher Doubloon" on YouTube:
https://new.coinsweekly.com/wp-content/uploads/2021/01/00-7-scaled-1.jpg
1275
2560
https://new.coinsweekly.com/wp-content/uploads/2023/01/logo-coinsweekly_590x204.png
2021-01-28 14:00:32
2021-01-28 14:00:32
$9.36 Million: Why the Brasher Doubloon Is the Most Expensive Gold Coin of the World