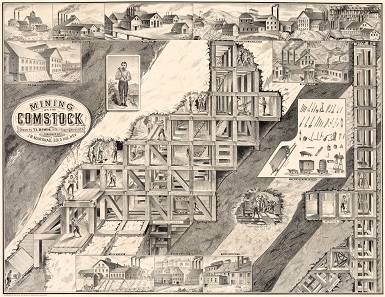 A mint for the Comstock Lode in Carson City / Nevada
In 1859, a few gold prospectors found the hitherto richest silver mine of the young United States of America, located in the Six Mile Canyon, at the time still part of Utah. Actually, the prospectors had been looking for gold, which was found in plentitude in this area. What they did find was grey-blue sludge, which turned out to be most lucrative silver sulfide when analyzed.
Mining work at Comstock Lode. Philipp Deidesheimer, a graduate of the Freiberg Mining Academy, developed a support system for Comstock Lode, which made large empty spaces safe from collapse.
To exploit the rich deposits of Comstock Lode, capital was needed. The time was over for placer mining; now large capital companies emerged. And it was these capital companies which attracted the attention of the rich and powerful to the western half of the State of Utah.
Utah, at this time, was ruled by Mormons. Their rigid moral law were disliked by the miners living in the Wild West towns, which were built above the big mines. As a result, they tried to achieve independence from Utah. And they had the best argument one can image: the richness of silver in their region. The American Civil War was just around the corner and Abraham Lincoln was worried how to finance this emerging threat. Well, on October 31, 1864, he saw to it, that Nevada became part of the union, as 36th state of the United States of America. What difference did it make that the required number of people didn't live there yet? They would surely still come. What was the most important fact, was that the elite of Nevada was taking part in financing the war.
And for this, Lincoln was able to make concessions. One of them was to erect a state mint in Nevada in order to secure the country's supply of cash. For Washington a mint near Comstock Lode also brought advantages. So far, un-coined gold and silver had to be transported over the Rocky Mountains to San Francisco – and valuable loads were here and there lost to outlaws or weather conditions.
Carson City Mint. Source: Library of Congress / Wikipedia.
But where should this new mint be built? Abraham Curry, an entrepreneur from New York, who went west to try his luck, was trying to bring his own creation into position. Located a comfortable 5 hour walk away from Virginia City, Carson City had been built on top of Comstock Lode. And indeed, in 1865, Curry was ordered by Congress to build the new Carson City Mint.
That's when the ideas of east and west clashed. No New Yorker could imagine how expensive labor was in the west and just how big of an effort it was to bring in building materials. Congress estimated $150,000 for the construction of the mint. The actual cost amounted to $426,788. This cost increase was associated with an endless back and forth between Abraham Curry and the government. Painstakingly, the minting presses were shipped from New York around South America, to then be transported by mules from San Francisco over the Rocky Mountains to Carson City. When finally everything was ready to start minting coins, the dies were missing. They didn't came until January 10, 1870, delivered by a Wells Fargo mail coach.
20 dollars "gold double eagle" Carson City 1871 CC. Fr. 176. Only 17,387 specimens struck. Gadoury Auction December 3, 2016, lot 934. Estimated at 2,000 euros.
And that's when the striking of coins began. 8 different denominations were produced in Carson City. Among them mostly silver coins – after all, Comstock Lode produced almost 7 million tons of silver between 1860 and 1880! But next to dimes, quarters, halves, trade dollars and Morgan dollars, rare gold coins were also produced, all together 57 types.
Produced were:
| | | |
| --- | --- | --- |
| Amount | Denomination | Face value of |
| 864,128 | $20 | $17,282,560 |
| 299,778 | $10 | $2,997,780 |
| 709,617 | $5 | $3,548,085 |
20 dollars "gold double eagle" Carson City 1878 CC. Fr. 179. Only 13,180 specimens struck. Gadoury Auction December 3, 2016, lot 958. Estimated at 1,800 euros.
The amount of gold double eagles minted between 1870 and 1893 struck with the CC mint mark:
| | |
| --- | --- |
| Year | Amount |
| 1870 | 3,789 |
| 1871 | 17,387 |
| 1872 | 26,900 |
| 1873 | 22,410 |
| 1874 | 115,085 |
| 1875 | 111,151 |
| 1876 | 138,441 |
| 1877 | 42,565 |
| 1878 | 13,180 |
| 1879 | 10,708 |
| 1882 | 39,140 |
| 1883 | 59,962 |
| 1884 | 81,139 |
| 1885 | 9,450 |
| 1889 | 30,945 |
| 1890 | 91,209 |
| 1891 | 5,000 |
| 1892 | 27,265 |
| 1893 | 18,402 |
Due to political reasons the mint was closed after the death of its superintendent James Crawford, who headed Carson City Mint. At this time, there was a heated debate about a possible transformation of the United States' monetary system from the silver to the gold standard. In Carson City mainly silver coins were produced – just think about the nearby Comstock Lode – for example, 756,000 Morgan dollars in 1879 alone.
Grover Cleveland's support of the gold standard – and therefore the end of Carson City Mint – brought him a place of honor on an early US gold certificate in the value of $1,000 issued in 1934. Source: National Numismatic Collection at the Smithsonian Institution / Wikipedia.
It wasn't until October of 1889, when the Republican Benjamin Harrison took office as President, that the mint was re-opened. Harrison preferred the silver standard and therefore his political thinking met with the Nevada mine owners. But on March 4, 1893, Grover Cleveland took over as President – and right away ordered the closure of Carson City Mint.
Ultimately, Carson City lost its status as a mint in 1899. At this time silver production of Comstock Lode had drastically declined. In the mint building, a state-owned metal purchasing point was established, which only closed in 1933. The building was sold to the State of Nevada for $10,000. It now houses Nevada's State Museum.
Nowadays, gold double eagles from Carson City are great and desirable rarities among American collectors. Gadoury's auction will offer 15 of them. The years between 1871 and 1884 are complete and on top of that the collection also includes an 1890 and 1891 piece, as well as an 1890 half eagle (=$5). This means ample opportunities to purchase one of these magnificent rarities. They document the pioneer spirit of the Wild West, gold boom towns, and entrepreneurship. They are part of the big American dream.
Here you can find all Carson City dollars offered in the Gadoury auction sale.
And CoinsWeekly offers also a complete auction preview.
https://new.coinsweekly.com/wp-content/uploads/2018/10/24591_f4807e74-1.jpg
297
385
https://new.coinsweekly.com/wp-content/uploads/2023/01/logo-coinsweekly_590x204.png
2009-10-14 00:00:00
2009-10-14 00:00:00
A mint for the Comstock Lode in Carson City / Nevada