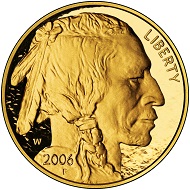 Bullion coins part 4: American Buffalo

translated by Christina Schlögl
On 22 December 2005, the Congress of the United States of America issued the "Presidential $ 1 Coin Act". Not only did this act clear the way for the two series of commemorative coins with the images of the presidents and their wives…
The American Buffalo, gold bullion coin of the US Mint since 2006. Photo: US Mint.
…but it also cleared the way for a new American bullion coin, which is sold under the name "American Buffalo".
The Buffalo Nickel; this particular one was minted during the last minting year, 1938, in Denver. From the auction Gorny & Mosch 209 (2012), 4513.
The Beauty of the original America
They chose a design, which was more than one hundred years old, to be reminiscent of a long-lost, original America. It was based on a sketch by James Earle Fraser (1876-1953), who used it in 1913 to create his most famous work of art, the 5 Cent coin, which has come to be known as Indian Head or Buffalo Nickel in numismatics.
James Earle Fraser. Photograph in his studio, ca. 1920. Source: Wikipedia.
We have already reported on American President Theodore Roosevelt's (President 1901-1909) discontent with the American circulation coins during our last article on the Double Eagle. He wanted new coins that would reflect the American national character rather than coins with Europeanising personifications. And these ideas had an effect. Two years after the end of Roosevelt's term of office, one of his former employees, treasurer at the time Franklin MacVeagh, decided to give Saint-Gaudens-student James Earle Fraser the task to design a new nickel.
End of the Trail, Shaler Park Waupun. Photo: Shawn Conrad / Wikipedia CC3.0.
James Earle Fraser
Fraser came from a part of the US, we now call the Wild West. His father had been a real pioneer. He had worked for the railway and he had seen the battle field at Little Bighorn a few days after the devastating defeat of Custer's army. Little James Earle was brought up in a country, whose way of life was vanishing. Every day, the seemingly unending herds of buffalo were getting less and an increasing number of Native Americans resigned and gave up their traditional way of life.
It is said that Chief Iron Tail, Sinté Mazá was used as a model for the Buffalo Nickel. Photo: Wikipedia.
It is thus typical that Fraser did not look for models for the Nickel in the Wild West. The Native Americans, he portrayed on the obverse were not "wild savages" anymore but they were representatives of their people who were integrated into Western civilization. We know of two candidates who are certain to have sat for Fraser's Nickel: the Oglala Sioux Iron Tail, who had fought with Sitting Bull at Little Bighorn and was earning his money from working at Buffalo Bill's Wild West Show when Fraser contacted him, and Seneca John Big Tree, who was a famous actor at the time. Cineasts might know him from the movie "Stagecoach", directed by John Ford in 1939, where he played John Wayne's adversary. His profile is said to have been used for the Indian's head's forehead and nose. Fraser used different people's facial features to compose the head.
Chief Two Moons. Photo: Edward S. Curtis 1910.
Apparently, a third Native American was involved. One of the possible candidates is the Cheyenne Two Moons, who had the peculiar nickname Crazy Roman Nose and who was also a veteran of the American Indian Wars.
Buffalo. Photo: Wikipedia / Jack Dykinga, Agricultural Resarch Service, USA.
Black Diamond
The buffalo from the reverse wasn't a wild buffalo from Fraser's youth either. For his sketches, the artist supposedly visited the New York Zoo, where the buffalo Black Diamond, the biggest buffalo in captivity, was a popular attraction. This buffalo was born in the circus of Barnum and Baily. After a long career as an attraction for the public, he was sold to a butcher at the age of 22 for $300. We know that his steaks were sold for $2 per pound. Pretty good business, considering that the buffalo provided 750 pounds of meat…
Black Diamond probably had an even bigger impact on the history of money: A similar buffalo decorates the $10 note from 1901, designed by Charles R. Knight – presumably he was also a zoo-goer… Photo: Wikipedia.
Anyway, it is not proven that this particular buffalo was used as a model. At least he had the advantage of standing still and the artist could get very close to him fairly easily.
At the time, Fraser made a sketch in which the buffalo was standing on a hill. This proved to be impractical for circulation coins, which is why the hill was replaced by a thinner line. For the American Buffalo, the US Mint realised the first design, which was of greater artistic value but more delicate.
Minted in Westpoint
The American Buffalo is made from 9999 gold and thus lays claim to a special fineness. It is predominantly made for the American market – its mintage is too small for an international demand. In 2006, 323,000 American Buffalos were made, only 167,500 in 2007 and in 2014, it was 180,500. The American Buffalo is minted in West Point.
Only for a short period of time starting in 2008, the American Buffalo was issued in several denominations, namely $5 (1/10 ounce), $10 (1/4 ounce) and $25 (1/2 ounce).
In addition, the US Mint offers a proof coin version of the American Buffalo for collectors. It is sold for a predetermined fixed price and bears the mint mark "W" for West Point for distinction.
Numismatic data of the American Buffalo
Coin description: LIBERTY Native American head f. r., signature F(raser) and year in the shoulder cut.
Reverse: UNITED STATES OF AMERICA Buffalo on a small hill standing f. l., top right E PLURIBUS UNUM (= From Many, One), bottom left IN GOD WE TRUST. On the hill denomination $50 and 1 OZ. .9999 FINE GOLD.
US-Dollar 50 / 1 ounce / 9999 / 31.1035 g / 32.7 mm / 2.95 mm
All episodes of the series "Bullion coins" can be found here.
Link
Here you will get to United States Mint.
All episodes of the bullion coins series are available here.
https://new.coinsweekly.com/wp-content/uploads/2018/10/24712_e83d31ce-1.jpg
190
190
Ursula Kampmann
https://new.coinsweekly.com/wp-content/uploads/2023/01/logo-coinsweekly_590x204.png
Ursula Kampmann
2009-10-14 00:00:00
2009-10-14 00:00:00
Bullion coins part 4: American Buffalo