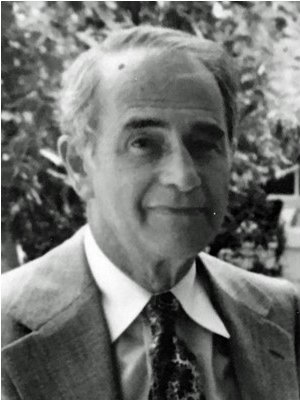 Flower, Harry (1912-2000)
Early in the 1950s Glenn B. Smedley (Chicago Coin Club Hall of Fame No. 8) got Harry Flower started as a collector. He applied for ANA membership in November 1954, listing his specialty as U.S. paper money. Mr. Flower soon became active in his local Oak Park Coin Club, and on Sept. 10, 1958 joined the Chicago Coin Club as member No. 695. In 1961 he was elected a Governor and received the Best in Show Exhibit Award at the Chicago Coin Club Fall Festival; the following year he was appointed Exhibits Chairman for this short-lived annual show. He presented many programs to the club on a wide variety of subjects over the years. A frequent exhibitor at meetings, he received a First Place Cabeen Exhibit Award in 1990 and collected many Second Places and Honorable Mentions.
Mr. Flower (October 16, 1912 – May 24, 2000) was born in Poland and immigrated with his family to Lexington, Mississippi in 1914; they moved to Chicago when he was a teenager. He enrolled at the University of Illinois at Champaign in 1930, but his education was interrupted by the Depression and he did not complete his degree in pharmacy (at the Chicago campus, as required then) until 1937. After two years' post-graduate experience, he became a Registered Pharmacist, though he continued to live with his parents until his marriage in 1944. About 1947-48 he opened his own business, Flower Drugs, an old-time pharmacy with custom pills and cough syrup, operating it for about a quarter century.
His numismatic interests covered the entire field of numismatics: primitive money, ancient coins, paper money, world coins, tokens, and medals, including altered coins and paper money, cut and counterstamped coins, and gold coins, but he eventually specialized in Judaica in Numismatics, particularly tributes to Albert Einstein. Mr. Flower joined the American Israel Numismatic Association soon after it was formed in 1967, serving as Regional Vice President 1973-80 and Regional Director 1980-88. In 1984 AINA published his definitive 32-p. catalog, Tokens & Medals issued by Israel Numismatic Societies. He was also active in the Israel Numismatic Society of Illinois, serving as President 1969-72, and was elected President of two other Chicago-area coin clubs at various times. He is best known, however, as the author of "Numismatic Tributes to Albert Einstein," The Numismatist January and February, 1987 (Third Place Heath Literary Award, reprinted November 1987, 44 p.), and for forming the finest collection of Albert Einstein medals, tokens, coins, and paper money.
Mr. Flower won First Place awards in his category for exhibits at three AINA conventions in the 1970s and a Second Place exhibit award at the 1984 ANA Convention. In 1992 he was voted a Numismatic Ambassador. Affectionately known to some as "Mr. Einstein" because of his laser focus on Einstein tributes, he is fondly remembered by Chicago Coin Club members for his generosity and willingness to advance numismatic knowledge: "He was always willing to help a fellow collector."
The article was published first in the Chicago Coin Club Hall of Fame and is re-published courtesy of the Chicago Coin Club.
https://new.coinsweekly.com/wp-content/uploads/2023/03/00-hflower.jpg
400
300
https://new.coinsweekly.com/wp-content/uploads/2023/01/logo-coinsweekly_590x204.png
2023-03-16 10:00:24
2023-06-13 18:38:39
Flower, Harry (1912-2000)