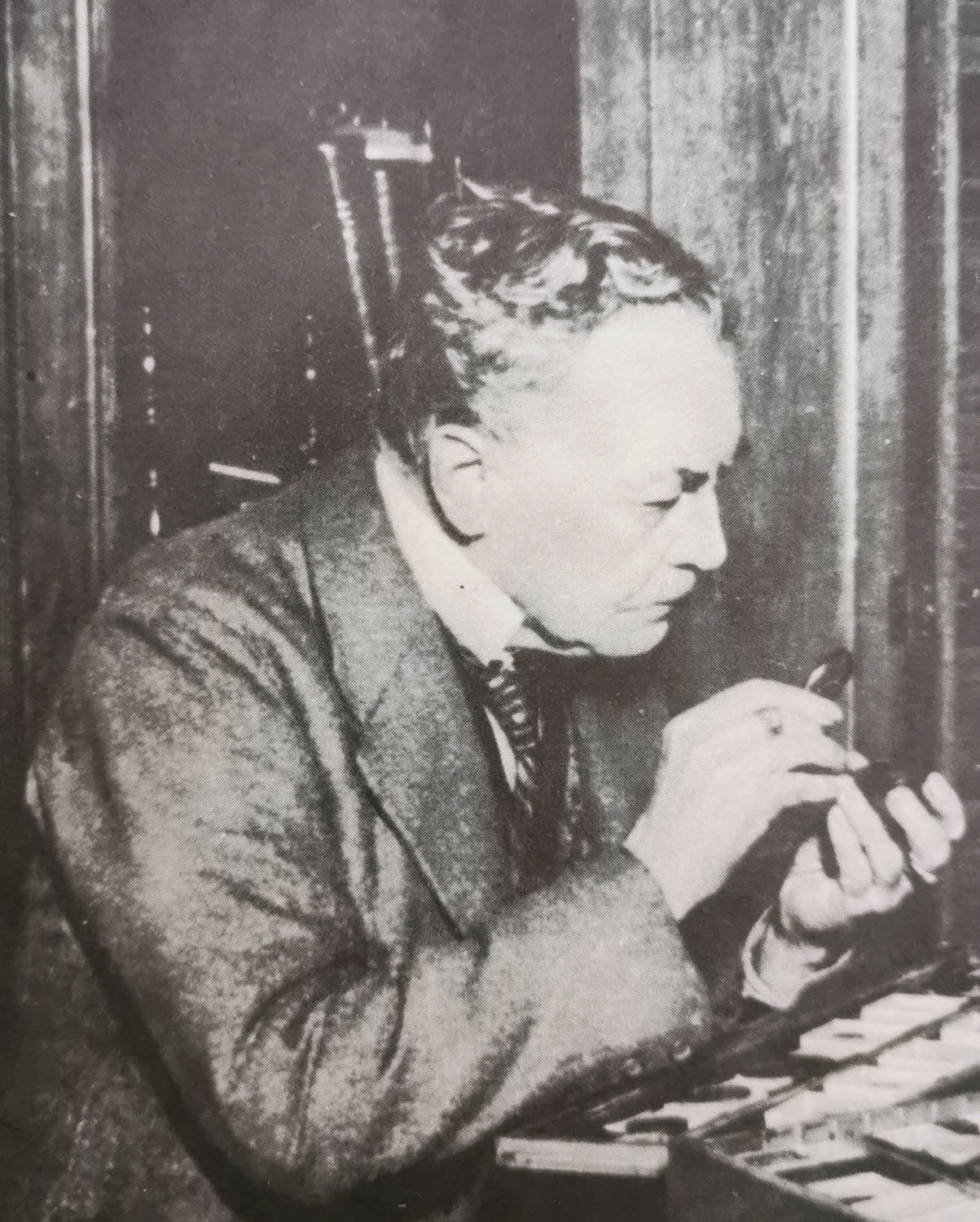 Hollschek, Karl (1859-1941)
By Martin Holzknecht, translated by Rachel Agard
According to estimates, one of the largest private collections ever compiled – in Europe at least – contained approximately 220,000 pieces, though the exact number has never been recorded. The few people who had the opportunity to see this impressive, universal private cabinet – which would have been a real asset to any of the world's great museums – were truly overwhelmed.
The man behind this staggering collection – Karl Hollschek – was born in 1859 in České Budějovice, a city in the South Bohemian region of the Czech Republic. His father was a textile merchant and he had a brother one year older than him, who also collected coins.
After completing his studies at the Realgymnasium (an Austrian secondary school type with a focus on modern science and languages) and the commercial college, he enrolled at the military academy. By the time he married in 1884, he was a young officer. But after the death of his father-in-law, he had to take over management of the "Karolinenbad" private baths on Dürergasse in the 7th district of Vienna, so he retired from active military service.
He had begun collecting coins at the age of just 11; from the time he left the army until his death, he dedicated all his free time to his coin collection. Hollschek was an eager and skilful buyer; his many catalogues demonstrate that he took part in some of the biggest auctions of his time with a great deal of knowledge and expertise. Numismatically speaking, he was living in a "better time"; there was never any shortage of numismatic material, and he lived among numismatic luminaries such as Luschin, Vötter and Zambaur.
Hollschek strongly believed that numismatics keeps one young – he always wanted to live to be a hundred years old, but he didn't manage it; he died in 1941 at the age of 82. All his life, he made his coin collection available to the academic world and was happy to share his specialist expertise with anyone seeking help or advice. This got to the point where Hollschek was often the final authority when it came to solving numismatic mysteries. For instance, the Miller-Aichholz catalogue, still considered a standard work today, contains a great many explanatory notes from Hollschek's collection. He was also someone who truly lived by the principle "parva ne pereant" ("So the small may not perish"), since he always respected the minor details just as much as the big, exciting numismatic finds.
Hollschek was a member of the Österreichische Numismatische Gesellschaft (Austrian Numismatic Society) from 1895 until his death, as well as the Club der Münz- und Medaillenfreunde (Coins and Medals Enthusiasts' Club), later called the Gesellschaft für Münzen- und Medaillenkunde (Society for the Study of Coins and Medals), from 1897 to 1919 (all based in Vienna). Many of the communications published by the Österreichische Numismatische Gesellschaft include articles written by Hollschek.
Contrary to some frequently raised doubts, this collection contained some highly valuable pieces. It was auctioned over seven years – starting in 1956 – at the Dorotheum auction house, Vienna, in three successive catalogues under the title "AUSTRIA IN NVMMIS", concluding with the 18th part of the collection in 1963.
We'll close with an unconfirmed anecdote: it is said that, at the end of each day, as Hollschek collected his takings at Karolinenbad, coin dealers were already lining up to see him!
Bibliography:
The Numismatische Zeitschrift, Volume 84/85, "100 Jahre Österreichische Numismatische Gesellschaft 1870 – 1970" (100 years of the Austrian Numismatic Society 1870 – 1970), p. 132, plate 27, Dr. Bernhard Koch, Österreichische Numismatische Gesellschaft
Hollschek Collection, Austria in Nvmmis Part I, Dorotheum Wien Kunstabteilung, 1956
https://new.coinsweekly.com/wp-content/uploads/2022/09/00-IMG_20210918_102308.jpg
1500
1203
https://new.coinsweekly.com/wp-content/uploads/2023/01/logo-coinsweekly_590x204.png
2022-09-29 01:20:21
2023-06-19 08:46:07
Hollschek, Karl (1859-1941)