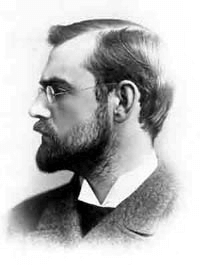 Huntington, Archer Milton (1870-1955)
by Hadrien Rambach
Archer Huntington, the giant (6-foot-5) stepson of railroad magnate Collis P. Huntington, developed early an interest in the Hispanic culture – probably inspired by a journey to Mexico in his teenage years. In 1892, with a Yale professor, he went to Spain for the first time – the first of many such trips, notably to the Northern territories, the land in which El Cid is set, a poem which he annotated, translated and later published along with some of his own writings. Huntington also participated in archaeological digs, including the excavations of the ruins of Roman Italica near Seville in 1898. The railroad heir turned down the offer of a job in management, to pursue his passion rather than a business career.
Ardently setting out to assemble a collection from every period and every land where Spanish influence was felt, however remotely, Huntington travelled tirelessly all over the globe collecting coins, books, paintings, sculptures, glass, pottery and a whole host of other artifacts. The aim of this huge undertaking was to create a visual, encyclopedic and exciting testament to every period and aspect of Hispanic culture. This led him to establish New York's Hispanic Society of America, a free museum and research library for the study of the arts and cultures of Spain, Portugal and Latin America. The numismatic component of his collections contained a staggering number of coins, spanning two and a half millennia from the pre-Roman Spanish indigenous period, the Roman imperial era, the Visigothic takeover, Umayyad Islamic Spain (for which he learned Arabic), the medieval ages, up to the empire of Ferdinand and Isabella and their royal successors. As a collector, he adhered strictly to the guidelines for purchasing coins outside Spain, having no interest in removing treasures from the country. Collis's nephew, Henry E. Huntington and his wife (from 1913) spent over $21m (about £4m) in art from Duveen between 1908 and 1917: by comparison, the funds spent by Archer in coins was pocket-money.
Huntington donated land and subsidies for the construction of The American Numismatic Society's first building, completed in 1908 on Audubon Terrace (off Broadway between 155th and 156th Streets), and financed the publication of its Numismatic Notes. In the process of assembling his collection, Huntington made many new acquaintances and crossed paths with many distinguished dealers and collectors: some invaluable documents on his purchase habits have been published by Sabine Bourgey, whose grandfather had been a major supplier of coins to Huntington. Though Huntington died in late 1955, he had already written in April 1907 that he was going to stop buying – a decision which he reaffirmed in November 1908 though his last purchase from Bourgey was in January 1913. From 1910 until his death, Huntington was Honorary President of The American Numismatic Society, and in 1946 he loaned the collection to the ANS. He then transferred its ownership to The Hispanic Society of America in 1949, but the coins remained stored at the ANS. After Huntington's death, some 6,390 additional coins were discovered in his vault, which were added to the rest of the collection.
Despite having been preserved in a museum for over fifty years, because of restrictions imposed by The Hispanic Society of America, the Huntington collection has been little studied (and especially not its formation), with very few scholars being allowed to work on the coins. The collection was stored at the American Numismatic Society, which gave access to the coins for scholars, but the H.S.A. decided to deaccession these 37,895 coins on 23 January 2008, and the A.N.S. did not succeed to invalidate this decision. The group was sold en bloc in a single-lot sealed-bid auction by Sotheby's (New York) on 8 March 2012, for a price rumoured to be in the region of 25 to 30 million dollars. The Roman gold coins were re-offered at auction, in two sales by Numismatica Ars Classica (Zurich): their auction 67 (on 17 October 2012) and their auction 71 (on 16 May 2013).
Bibliography:
Meryle Secrest, Duveen. A life in art, New York 2004, p. 120; M. Bendala, J. Maier, C. del Alamo, S. Celestino and L. Prados, "Archer M. Huntington y la arqueología Española", in Arqueología, coleccionismo y antigüedad. España e Italia en el Siglo XIX, Sevilla 2006, pp. 65-81; Robert Hoge, Andrew Meadows and Ute Wartenberg Kagan, "'Truth and Plain Dealing': the fate of the Archer Huntington collection of Spanish coinage", in ANS Magazine (Winter 2008), pp. 22-30; Sabine Bourgey, Sous le signe du métal. Histoire d'une famille du marché de l'art, Paris 2011, pp. 116-125.
Hadrien Rambach, "Provenance glossary", in Numismatica Ars Classica, Auction 91: the George W. La Borde collection of Roman aurei – part I, Zurich, 23 May 2016, pp. [67]-[79].
Hadrien Rambach, "Provenance glossary", in Numismatica Ars Classica, Auction 99: the George W. La Borde collection of Roman aurei – part II, Zurich, 29 May 2017, pp. 47-63.
Hadrien Rambach, "Provenance glossary", in Numismatica Ars Classica, Auction 105: the George W. La Borde collection of Roman aurei – part III, Zurich, 9 May 2018, pp. 82-105.
This article was first published in a catalogue of auction house Numismatica Ars Classica.
https://new.coinsweekly.com/wp-content/uploads/2021/09/00Archer_Huntington.png
269
200
https://new.coinsweekly.com/wp-content/uploads/2023/01/logo-coinsweekly_590x204.png
2021-09-30 14:00:43
2023-06-19 11:09:47
Huntington, Archer Milton (1870-1955)