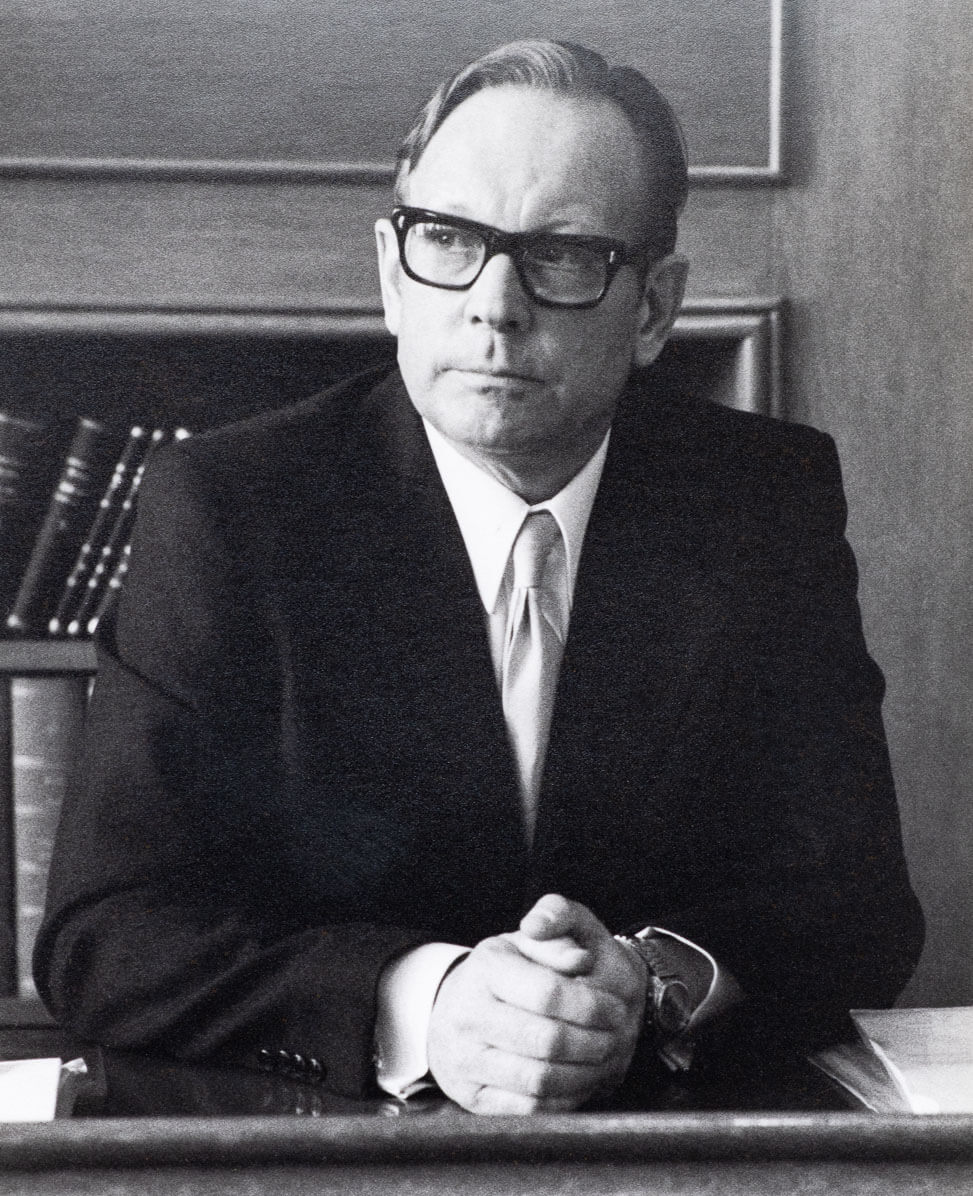 Krähenbühl, Hans (1924-2010)
Regierungsrat Dr. iur. Hans Krähenbühl was born on 3 July 1924, the eldest of the married couple Karl and Martha Krähenbühl-Gerber's four children. The highly gifted boy (he is said to have taught himself to read at the age of five) showed a conspicuous interest in Latin and history at an early age and graduated high school with distinction. The study of law led Dr. Krähenbühl from his home in Steffisburg in the Bernese Oberland to the University of Berne, a path he was to take many times over the course of his long career in public service. In his spare time, Hans Krähenbühl, was an enthusiastic and successful handball player, participating in national and international tournaments as a forward with the TV Steffisburg and University of Bern teams. As a young advocate, Dr. Krähenbühl was drawn to Interlaken for five years to the office of Fritz Graf, who, himself politically active, encouraged his interest in public service and was to become a personal role model. After passing his state examinations, Dr. Krähenbühl joined the law firm of his uncle Hugo Gerber as a notary public and subsequently ran it himself for many years until his increasing obligations in public service and his numerous honorary activities no longer allowed him to do so.
In his private life, Dr. Krähenbühl had by then already found happiness in his love for Rosa Marie Reusser, whom he had known since early childhood, since grandfather Krähenbühl and grandfather Reusser were cousins. The marriage, which took place in October 1951, remained childless, but their diverse, often overlapping cultural interests and numerous honorary activities ensured that the Krähenbühl-Reusser couple never got bored. Mrs. Krähenbühl-Reusser was involved, among other things, in the Swiss aid organization, 'Enfants du Monde', the 'Schweizerisches Hilfswerk für Polenkinder', and the 'Hilfsaktion Region Thun'. She also supported her husband in his political ambitions from the very beginning.
Dr. Krähenbühl joined the Free Democratic Party (FDP) at an early age and successfully ran for the Grosser Gemeinderat (Great Municipal Council) Steffisburg in 1954, which he presided over in 1959. In 1960 he moved to the Gemeinderat (Municipal Council) and became head of finance of the Steffisburg municipality, a position he was to hold for the next twenty years. In 1966 he succeeded at the first attempt in Bern in the Grosser Rat (Grand Council of the Canton), and in 1979 he was even elected President of the Cantonal Parliament. In 1980, Dr. Krähenbühl's election to the Regierungsrat (Government Council) marked his move to the executive. As police director, he was to have a decisive influence on the security policy of his canton in the years that followed. In 1984/5, he presided over the Bernese cantonal government as Regierungsratspräsident (President of the Government Council). Dr. Krähenbühl's highly successful career up to that point came to an end with the Bernese financial affair, when he and various other politicians came under criticism in the wake of high expense claims and reimbursed private expenses. To mend fences, Dr. Krähenbühl decided not to run for re-election in 1986, but his party was nevertheless punished by voters and, in the following legislative period, was not represented in the Bernese cantonal government for the first time since the founding of the Swiss federal state in 1848.
Dr. Krähenbühl was involved in a wide variety of functions in addition to his profession as an advocate and notary public and his political activities. He completed his military service after more than 2,000 days of service with the rank of colonel in the artillery. He was a member of the Board of Directors of Gebäudeversicherung Bern, Kraftwerke Oberhasli AG, Engadiner Kraftwerke, and Belpmoos Airfield. He also chaired the Board of Directors of Spar- und Leihkasse Steffisburg (now Valiant) and Autoverkehr Heimenschwand AG. For many years, as secretary and managing director of the Employers' Association of Thun and Neighboring Areas (now the Employers' Association of the Economic Area of Thun and the Bernese Oberland), he influenced the economic develop- ment of his home region, which was very close to his heart throughout his life.
Dr. Hans Krähenbühl earned special merits through his many honorary activities and his promotion of art and culture. Through his wife Rosa Marie Krähenbühl-Reusser, a teacher with pronounced musical interests, he got to know and appreciate many musicians, whom he supported wherever possible in word and deed and whom he sought to make known to a wider public. As President of the Board of Trustees of the Museum of Clocks and Mechanical Musical Instruments Oberhofen, he was committed to the proper conservation of the valuable exhibits, and as President of the Thun General Orchestra Society, he not only led the election of two new conductors, he also succeeded in financing the purchase of a large Steinway concert grand piano in cooperation with the municipalities of Steffisburg and Thun, as well as the Thun Male Choir and the Thun Region Music School. Furthermore, the fact that the Thun Region Music School now resides in the magnificent historic Bellerive Castle in Gwatt is due not least to Dr. Krähenbühl's initiative.
Dr. Krähenbühl had a special relationship with the Bern Historical Museum, which he also chaired as president after leaving the cantonal government. He played a leading role in organizing the purchase of the Jean-Pierre Righetti coin collection in 1982. This collection of more than 3,000 Roman provincial coins was valued in two independent appraisals by Leu Numismatik AG and Prof. Dr. Peter Robert Franke, not least at Dr. Krähenbühl's instigation, being a member of the cantonal government at the time, and was subsequently acquired en bloc by the Canton of Bern. The 1993 publication of the Righetti Collection by Dr. Balasz Kapossy in the series of Sylloge Nummorum Graecorum is today one of the standard works of specialized literature on the coinage of Greek cities in the Roman Empire. The same can be said about the collection of C.A. Burns, an important special collection of the coins of the Kushana, which was bequeathed to the Coin Cabinet of the Historical Museum of Bern in 1987 and was scientifically processed by Prof. Dr. Robert Göbl from Vienna a few years before his death.
Dr. Krähenbühl's personal interest in art, which has been testified to many times, seems to have been laid in his cradle. His grandmother in particular, the sister of the well-known Emmental painter, etcher and sculptor Karl Stauffer-Bern (1857-1891), exerted an early influence on him. His fascination for culture and history also gave rise to his collection of 17th and 18th century engravings and furniture, which he cared for over the years and, where necessary, lovingly restored. The real lifeblood of Dr. Krähenbühl, however, was in ancient numismatics. We do not know the spark that ignited his fire of enthusiasm, but his classical humanistic education and his love of the Latin language may have provided a fertile breeding ground for decades of collecting.
Dr. Krähenbühl amassed his collection of ancient coins over almost half a century. This is a long time even by the standards of the middle and late 20th century, when (numismatic) clocks ticked somewhat slower than in the hectic world of the 21st century. Yet it is also striking that the Dr. Krähenbühl collection hardly showed any fluctuations. From the beginning, the collector acquired selected individual pieces with a connoisseur's eye, he laid out his field of collection broadly from the start, neither expanding nor restricting it in the course of time, and after many decades, through perseverance and patience, reached his goal of assembling the broadest possible numismatic panorama of Greek and Roman antiquity. Here, his long-term perspective and his tendency to think in large periods of time, which undoubtedly distinguished the experienced advocate and politician Dr. Krähenbühl, are evident. Once he acquired a coin, he knew it was the right one. Only in absolutely exceptional cases was a piece ever replaced.
In the end, a wonderful collection was created from a single mold, with magnificent coins from the Celts and Greeks and impressive series from the Roman Republic and the Roman Imperial period. As with all well-kept collections, Dr. Krähenbühl's preferences and interests can be easily traced. In Greek numismatics, for example, he sought to assemble as broad an overview collection as possible, from Gaul to Bactria and from Pontos to Egypt and Cyrenaica. Among these are not only impressive series from Magna Graecia, but also coinages from the Greek motherland, from Asia Minor and from non-Greek 'peripheral areas' such as Carthage and Celtic Britain. Dr. Krähenbühl showed special interest in the coinage of the Seleukids, for which he tried to compile a complete series of rulers from the foundation of the empire by Seleukos I in 312/1 BC to the end of the tetradrachm coinage of the Seleukid type in the late republican period, which he nearly succeeded in doing (lot numbers 93-170 in Leu Auction 8).
The coinage of the Roman Republic and the Roman Empire also occupies a large part of the collection. The series of republican denarii captivates through its excellent preservation and the often-splendid toning. Here, too, one senses the collector's fascination with ancient portraiture, the coins bearing the likenesses of republican heroes such as L. Junius Brutus and C. Servilius Ahala (lot 259), C. Coelius Caldus (lot numbers 262-263), and C. Antius Restio (lot number 269) are among the finest numismatic testimonies of this period that have been handed down. The portrait series continues with the heads of the imperators Octavian and Julius Caesar (lot 280), Pompeius Magnus (lot 282), and Marcus Antonius (lot 283), to then lead over to a series of emperors in silver and gold from Augustus to Julius Nepos, which is largely complete. At the end of the collection is a Byzantine gold coin and, in keeping with Dr. Krähenbühl's origins, a Bernese Guldiner from 1494 and a Bernese Duplone from 1819.
For Dr. Krähenbühl, collecting ancient coins was never a means to an end, but always the end in and of itself. Many of his companions did not know about the existence of his collection because he lived his passion out for himself rather than to impress others with it. Nevertheless, the promotion of numismatics was always close to his heart, and so it is not surprising that he made his collection available twice as a loan to a public institution and thus made it accessible to a broader public: for a first time from 21 October to 3 December 1967 in the exhibition 'Antike Kunst aus Privatbesitz, Bern – Biel – Solothurn' in the Central Library of Solothurn, as well as from 6 November 1982 to 6 February 1983 in the large exhibition 'Gesichter. Greek and Roman Portraits from Swiss Possession' in the Historical Museum of Bern. It is telling that Dr. Krähenbühl did not want his name mentioned in either exhibition because it was supposed to be about the coins, not the owner. Among the valuable documents left to Leu Numismatik by the heirs, a personal letter from Prof. Dr. Hans Jucker to Dr. Krähenbühl is particularly revealing in this regard, in which the well-known Bernese archaeologist explains in tortuous words that he had never mentioned the name of the Regierungsrat as the owner of the coins to a third person, as he had been told. The lines do not sound particularly credible, and one would not have liked to be in the professor's shoes when he next met the eloquent Government Councilor.
After his retirement, Dr. Krähenbühl fulfilled his long-cherished dream of living with his own horses, for which he had never found the time. As a passionate rider and president of the Rotary Riders, he took part in various endurance rides in the years that followed. He rode from Basel to Munich with an international group of participants and organized expeditions in the United States and Mexico. His love for the mighty beasts can also be seen in his conspicuous accumulation of coins with horse motifs or horse symbols in the collection. Dr. Krähenbühl rode with friends for the last time in 2007 at an advanced age in the Black Forest.
Dr. Krähenbühl passed away on December 10, 2010, at the age of 86, as a result of a severe fall on a snowy stair-case. He left the numismatic world a triple legacy with his magnificent collection of ancient coins, his valuable correspondence in writing, and his patronage of the coin cabinet of the Historisches Museum Bern.
This article was first published in a catalogue of auction house Leu Numismatik.
https://new.coinsweekly.com/wp-content/uploads/2021/10/00SSS7266-highres.jpg
1196
973
https://new.coinsweekly.com/wp-content/uploads/2023/01/logo-coinsweekly_590x204.png
2021-10-14 14:00:22
2023-06-19 10:53:17
Krähenbühl, Hans (1924-2010)