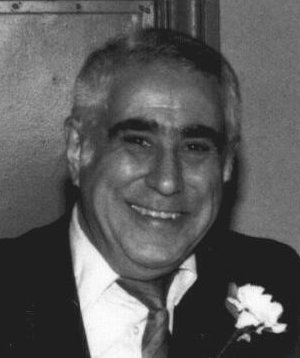 Needleman, Saul Ben (1927-2019)
Dr. Saul Ben Needleman became member 882 of the Chicago Coin Club on April 10, 1974. He served as President twice (1979, 1983-86), received the Literary Award four times, and the Medal of Merit in 1994. A frequent exhibitor at meetings, he was recognized with five Honorable Mention Cabeen Exhibit Awards. As President, he strove to have worthwhile educational programs at every meeting, twice speaking himself. However, his most lasting contribution to the Club was to invite both eminent numismatists and club members to contribute papers which he edited and had published as Perspectives in Numismatics, a 364-page festschrift issued in 1986 in honor of the Club's 800th meeting.
Dr. Needleman was born in Chicago in 1927 and graduated in 1945 from Murray F. Tuley High School (now Roberto Clemente High School); received a BS, Organic Chemistry, Illinois Institute of Technology (1950); MS, Biochemistry, Illinois Institute of Technology (1955); and PhD, Biochemistry and Medicine, Northwestern University (1957). His career in biochemistry included: Chief of Nuclear Medicine, VA Research Hospital, Chicago; Coordinator Science Affairs, Abbott Labs, North Chicago; Director Clinical Affairs, Schering-Plough, Memphis; Medical Expert, US Navy Drug Program, Great Lakes Naval Station; Associate Professorship Biochemistry and Neurology, Northwestern University, Evanston; and Chairman, Department of Biochemistry, Roosevelt University, Chicago. Dr. Needleman received numerous professional awards, and held patents in biochemistry and medicine. He is well-known in the bioinformatics field for the Needleman-Wunsch algorithm, used to align protein or nucleotide sequences. He published 14 scientific works in addition to his books on numismatics.
Dr. Needleman also held memberships in the American Numismatic Association (for a time he was a District Representative), American Numismatic Society, Royal Numismatic Society, British Numismatic Society, American Israel Numismatic Association, Central States Numismatic Society, Israel Numismatic Society of Illinois, Morton Grove Coin Club, and Lake County Coin Club; he held office in some of these local clubs.
One of his passions was education. He expressed his love of history, numismatics, and research by giving numerous talks before groups at the local and national level. He exhibited at major coin conventions, taking Second Place in his class at the 1973 Greater New York and 1984 Central States conventions, First Place in class at the 1984 ANA convention, and Best in Show at the 1978 Greater New York Convention with "a complex exhibit employing custom-made coin mounts with mirrors to highlight both sides of the coin displayed.'
Though his numismatic interests were wide, he concentrated on ancient coinage, English hammered coinage, coins of Israel, and Judaica in Numismatics. This last numismatic passion led him to write Use of God's Name: Jehovah on Coins, Medals, Tokens, and Jetons, a 428-page book published in 2002. In addition to his numismatic books, he has 18 unique entries in the library catalog of the American Numismatic Society: articles published in The Numismatist, Seaby Coin and Medal Bulletin, The Shekel, Journal of Numismatic Fine Arts, TAMS Journal, The Centinel, and Perspectives in Numismatics itself.
Besides his research and writing, Dr. Needleman was a talented artist and sculptor. During his residence in Japan, he also became interested in Japanese art. He passed away July 18, 2019.
The article was published first in the Chicago Coin Club Hall of Fame and is re-published courtesy of the Chicago Coin Club.
https://new.coinsweekly.com/wp-content/uploads/2023/04/00-sbneedleman.jpg
358
300
https://new.coinsweekly.com/wp-content/uploads/2023/01/logo-coinsweekly_590x204.png
2023-04-19 20:23:36
2023-06-19 11:34:59
Needleman, Saul Ben (1927-2019)