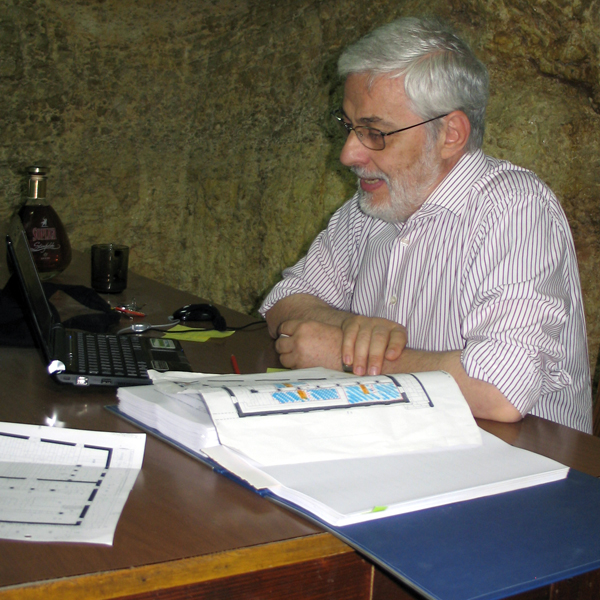 Expert in Italian archaeology and numismatics
Ermanno A. Arslan (* 1940) finished his studies under G.A. Mansuelli in Padua in 1962/63 with a thesis on the Roman baths, focusing on the problems of the distribution of environments and the structure of space. He was a volunteer assistant at the Chair of Archeology at Padua University from 1964 to 1969 and won several scholarships in Padua and Milan until 1973.
At the Brescia Roman Museum from 1969 to 1973, he set up the new classical section and rearranged the classical medallions. After being Conservator at the Milan Civic Numismatic Collections (since 1973), he then became Director of the Milan Civic Archeological and Numismatic Collections at Castello Sforzesco in Milan from 1975 to 2003.
Ermanno Arslan has been Honorary Conservator at the Biassono Civic Museum since 1978. He was Superintendent of the Castello Sforzesco in Milan from 1999 to 2005, and Director of the Civic Collections of Milan from 2003 to 2005. After his retirement in 2005, he was Professor at the IULM University – Milan from 2005 to 2012 and Director of the Bagatti Valsecchi Museum in Milan until 2011.
Both as a curator and as a cataloguer, Ermanno Arslan contributed to many major exhibitions, including "Donner noms". He participated in archaeological excavations at various sites in Italy between 1965 and 2015, including Milan, Spina and Spoleto. His academic interests focus on the archaeology of Italy under the Romans, the archaeology of the Cisalpine Celts, Celtic numismatics in Italy, Italian numismatics of early medieval times, and Byzantine and Arab coin finds in Italy.
Ermanno Arslan has been honored with the Médaille de vermeil of the Société française de numismatique in 1990. He is a member of numerous societies and institutions. He is Corresponding Member of the German Archaeological Institute (since 1979), Associé correspondant étranger de la Société nationale des antiquaires de France (since 1990), Honorary Member of the Commission Internationale de Numismatique (since 1997), Fellow of the Royal Numismatic Society, London (since 2005), to name a few. In 2017, he has been elected a Permanent Member of the Accademia dei Lincei in Rome.
At the International Numismatic Council, Ermanno Arslan was a member (1986-1991), Vice-president (1991-1997) and co-editor of the INC print newsletter (1988-1997). His own list of academic contributions is vast, ranging from monographs, conference articles and museum catalogs, covering numerous archaeological and numismatic topics. Among his many major contributions are the Repertorium of early medieval coin finds in Italy, 489-1002 (2005, updated in 2016) and the Repertorium of Celtic coin finds in Italy (1990, last updated in 2010).
You can contact Ermanno Arslan via e-mail here and here.
More information on the biography and the work of Ermanno Arslan is available on his website.
His extensive list of publications can be found here.
Offering a great number of Ermanno Arslan's writings for download, this is his academia.edu profile.
On Ermanno Arslan being elected to the Accademia dei Lincei, CoinsWeekly published a contribution by Cécile Morrisson.

https://new.coinsweekly.com/wp-content/uploads/2018/10/30938_3810c9ce.jpg
600
600
https://new.coinsweekly.com/wp-content/uploads/2023/01/logo-coinsweekly_590x204.png
2018-01-24 00:00:00
2023-06-16 15:35:56
Arslan, Ermanno A.