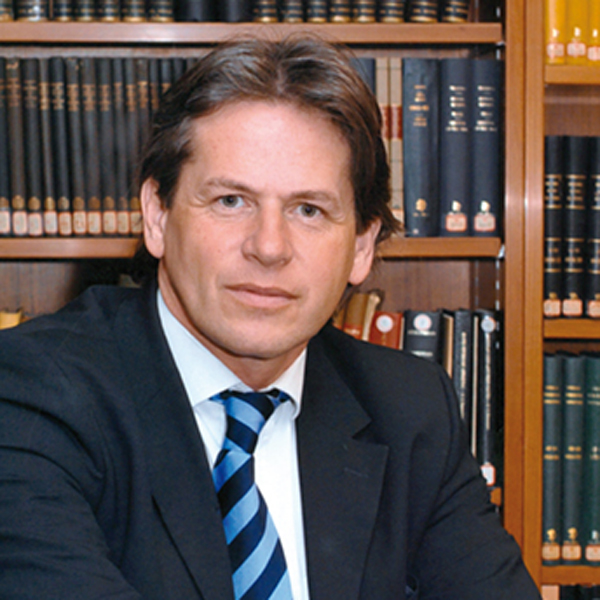 Former director of the Belgian coin cabinet and Head of Department at the Royal Library of Belgium, professor at the Sorbonne and the Free University of Brussels, author.
François de Callataÿ (*1961) studied archaeology, art history and philosophy at Université Catholique de Louvain (1979–1983), after which he completed his PhD (Philosophy and Letters 1988.) After a research period at the Ècole Française d'Athènes (1984–1985), he was appointed research fellow at the Belgian Fonds National de la Recherche Scientifique (1989–1991). In 1991, he became first assistant and Chef de Travaux at the coin and medals cabinet of the Royal Library of Belgium, which he headed from 1996–1997. From 1997 to 2006 he was head of all collections of precious objects of the Royal Library including manuscripts, prints, coins and medals. Since March of 1998, he has been Directeur d'études at the École pratique des Hautes Études (Paris-Sorbonne). He received his postdoctoral lecture qualification in 2003, and in 2008 he was appointed professor at the Free University of Brussels.
From 2006 to 2011 he was curator of all collections of the Royal Library (manuscripts, rare books, maps and plans, musical equipment, prints, coins and medals). In 2011 he decided to leave this position to focus on research. Since 2015 he has been elected secretary of the International Numismatic Council and from 2016–2018 he was president of the Collège Belgique. In 2017 he became president of the Royal Society of Numismatics of Belgium.
François de Callataÿ's numismatic publications are virtually inexhaustible: His publications encompass more than 6,000 pages, published in 24 countries, including 24 books (11 as sole author), about 250 articles and ca the same number of reviews, notes and prefaces. He organized about 15 conferences on the topic of monetized economy in and outside of Belgium, most recently (in 2019) he organized the 3rd International Numismatic Conference of the Royal Numismatic Society of Belgium in Brussels on the topic "The art of medals in the Low Countries (16th–21st c.)".
As an academic, according to the jury of the Francqui-prize, he accomplished breakthrough research for ancient cultures by using new methods. He published outstanding research results on the subjects of Hellenistic coin and monetary history, quantification of the ancient monetary economy and Greek-Roman macro economics. Another focus of François de Callataÿ is early modern research and reception history. He is initiator and founding member of FINA (=Fontes Inediti Numismaticae Antiquae.)
Next to his academic career, he is an active fiction writer and has published narratives, short stories and essays.
François de Callataÿ has been awarded many prizes, including the Colin Kraay Award in 1992, the Bodin-prize for best classic antiquity book in 1998, the Jeton de vermeil in 2006 (highest award of the French Numismatic Society), the Francqui-prize in 2007 (highest academic award in Belgium), and the Archer Huntington Medal Award in 2008 (highest American award in numismatics.) In 2013, he was awarded the Belgium Leopold Order, making him a commander. In 2015 he was Lansdowne Visiting scholar at the University of Victoria, British Columbia and in 2016 he was granted the status of honorary member by the Catalan Numismatic Society.
He is corresponding member of the Académie des Inscriptions et Belles-Lettres des Institut de France (since 2009), member of the Académie royal de Belgique (since 2014), as well as the Academia Europaea (since 2011), and secretary of the International Numismatic Council (since 2015). Furthermore, he is member of the Academia Europaea (since 2010), corresponding member of the Deutsches Archäologisches Institut and member of the School of Historical Studies at the Institute for Advanced Study (Princeton). He is a member of countless committees, associations and institutes and regular visiting scholar to many renowned numismatic organizations.
If you would like to contact François de Callataÿ, you may do so here.
On his profile at academia.edu, you can find more than 250 of his articles.
Here, you can see and listen to François de Callataÿ talking about research in history and numismatics: Part 1 and Part 2 (in French.)
Watch a wonderfully eloquent lecture about the beauty and sublimeness of Greek coins (in French and English) and about Cleopatra (in French.)
There is also a Wikipedia-article about François de Callataÿ.
Here, you can find François de Callataÿ on the websites of the Académie royale de Belgique and the AIBL (Académie des Inscriptions et Belles-Lettres.)
Find an author entry on the pages on the Académie des Sciences de Belgique here.
Here is a link to an entry at Academia Europaea.
Here you can find an entry about François de Callataÿ receiving the Prix Bodin prize in 1998.
*as of October 2019
https://new.coinsweekly.com/wp-content/uploads/2018/10/21552_d50d00bb.jpg
600
600
https://new.coinsweekly.com/wp-content/uploads/2023/01/logo-coinsweekly_590x204.png
2016-04-06 00:00:00
2023-06-16 19:55:35
Callataÿ, François de