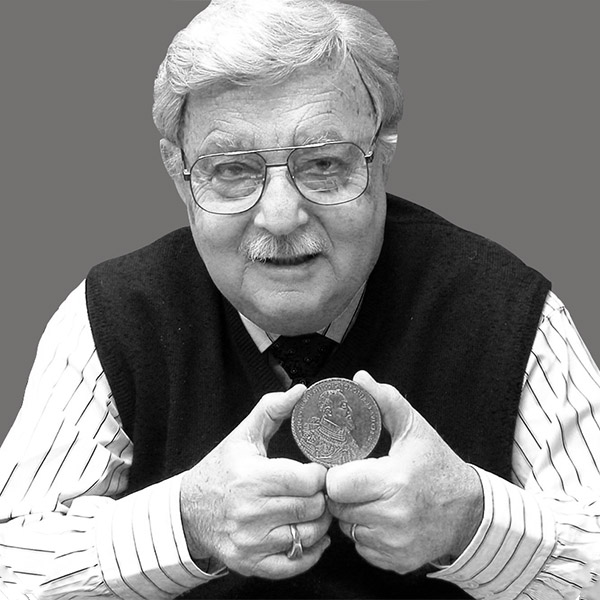 Coin dealer and auctioneer, co-founder of Stack's Bowers
Harvey G. Stack (1928-2022) was born into a New York family of coin dealers, which is why his entire life was closely connected to the history of this industry. His father Morton and his uncle Joseph B. Stack opened their business in 1933 and held their first public auction in 1935. While Harvey Stack was still in school, he and his two cousins Benjamin and Norman, the sons of his uncle Joseph, helped out in the company: on weekends and whenever there was no school, they sorted coins and stocked inventory. After graduating from school in 1947, Harvey Stack and his two cousins joined the family business. Like many others, he acquired his extensive numismatic knowledge on the job, learning from the employees of the time, including renowned numismatists such as Elvira and Vladimir Clain-Stefanelli, Henry Grunthal, James C. Risk and Hans Holzer.
Harvey Stack became in-house-manager, and in 1951 he was entrusted with building the world's largest collection of gold coins, the J.K. Lilly Collection. It was a virtually complete collection of all gold coins of the United States and its Territorial and Pioneer gold coins and of world coins from antiquity to 1933. The Smithsonian Institution later acquired this collection of over 6,500 coins.
In 1955, the three cousins became partners in the company, and Harvey Stack officially became licensed public sale auctioneer in the same year.
Harvey Stack repeatedly advocated for the coin trade and collectors. When the United States started in 1961 to impose strict import rules on gold coins (a special license was required), Harvey Stack went to court – and won in 1967. In 1973 he represented, among others, the American Numismatic Association, which argued for the Hobby Protection Act to be enacted into law. He was also involved in the introduction of the numerical grading system, which is now known all over the world, and in the establishment of the American Numismatic Association Certification Service (ANACS).
In 1976, Harvey Stack was a member of the United States Assay Commission, an institution that examines the coins minted by the US mint.
Harvey Stack was a member of numerous associations and societies throughout his life, holding various positions. He was spokesman of the American Numismatic Association, the American Numismatic Society and other associations, including the IAPN. From the late 1970s to the 1990s, Harvey Stack served on the board of directors of the Professional Numismatists Guild (PNG) and was its president from 1989 to 1991.
Harvey Stack was the company's Chief Manager of Business Affairs for 62 years and – along with his son Lawrence and his partner David Bowers – was active as a co-owner of the company until his death.
Harvey Stack passed away on 3 January 2022 at the age of 93. Click here to read the obituary by Ursula Kampmann.
On his 85th birthday in 2013, Harvey Stack began to write down his memories. You can find all of his articles on the Stack's Bowers website.
https://new.coinsweekly.com/wp-content/uploads/2021/05/HarveyStack_Quadrat.jpg
600
600
https://new.coinsweekly.com/wp-content/uploads/2023/01/logo-coinsweekly_590x204.png
2021-05-27 14:00:22
2023-06-16 07:57:15
Harvey G. Stack