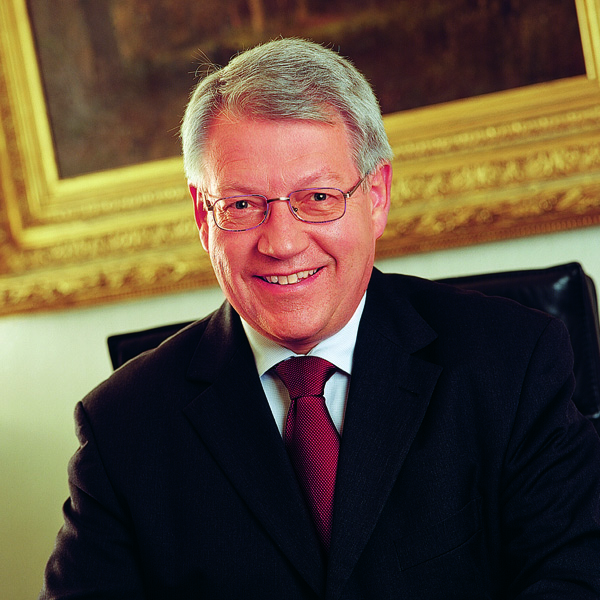 Founder of Fritz Rudolf Künker GmbH & Co. KG
Fritz Rudolf Künker (*1949) studied history and Romance studies in Berlin and Münster. During his studies he attended lectures by Peter Berghaus, who inspired him to turn the interest in coins he had been preserving since his childhood into a profession. He was still a student when he founded his first coin store in Schapdetten close to Münster. As early as 1972, his brother Horst-Rüdiger became his first employee who specialized in gold trade. In 1973 Fritz Rudolf Künker opened his first small store in Osnabrück. In 1985 he moved into a Gründerzeit style villa in Westerberg. It was vacated in May of 2014 in favor of a new building that had been constructed for the auction house. Along with the opening of the new headquarters, he stated that from July 1, 2014 he would retire from the company's management. Nevertheless, K1 – as he is lovingly called by insiders in order to distinguish him from his brother (K2) – is present at every auction and the new general managers can always approach him with questions and concerns.
Fritz Rudolf Künker is responsible for a number of important auction catalogs that have been published since 1985. More than 300 catalogs had been released at the time this Who's Who article was written (2018).
Fritz Rudolf Künker initiated a form of cataloging which has become the norm in Germany in terms of presenting special collections. Cohesive and including information about the collector. Some early examples are the Karl Witte collection including coins from Hameln (Catalog 3 – 1985), the Egon Beckenbauer collection with essay patterns (Catalog 7 – 1987), and the Dr. med Georg Stalling collection of coins and medals from the German north-western region (Catalog 15 – 1990).
Fritz Rudolf Künker joined the Verband der deutschen Münzenhändler VddM (The Association of German Coin Dealers) in 1972 and the International Association of Professional Numismatists IAPN in 1983. He was elected chairman of the VddM in 1977 and held office until 1986. Alongside Alain Poinsignon he managed the IBSCC and worked as the IAPN's treasurer for many years.
His greatest achievement was probably the role he played in the exposure of the coin counterfeiter Otto Wetzlaff in 1993.
Fritz Rudolf Künker has been granted the Otto-Paul-Wenger and the Eligius-Award. He is also a laureate of the World Money Fair Award and the Vreneli-Award. In addition, he is an honorary member of the Münzverein der Münzfreunde für Westfalen und Nachbargebiete.
You can contact Fritz Rudolf Künker via the secretary's office of the auction house.
Here you can find the auction house's official website.
We reported on the company's move to its new headquarters in 2014.
To catch a glimpse of what a Künker auction looks like watch this clip.
https://new.coinsweekly.com/wp-content/uploads/2018/10/33344_58e1dac6.jpg
600
600
https://new.coinsweekly.com/wp-content/uploads/2023/01/logo-coinsweekly_590x204.png
2018-07-04 00:00:00
2023-06-16 15:21:07
Künker, Fritz Rudolf