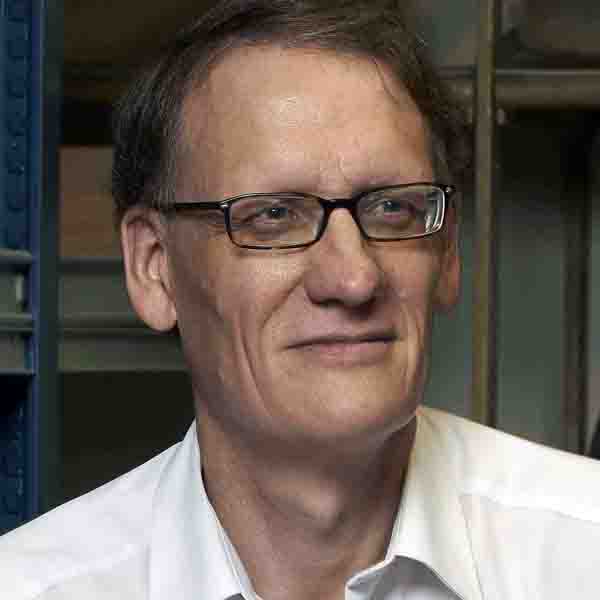 PAS specialist for Iron Age and Roman coins
T. Sam N. Moorhead's (* 1961) interest in coins began when he was four, finding a Victorian penny of 1900 amongst change on his Father's dressing table. He studied Classical Archaeology and Ancient History at the University of North Carolina at Chapel Hill and gained further qualifications from Durham University and the Institute of Archaeology, University College London.
For twelve years he taught Classics, Archaeology and Ancient History at Ardingly College, before joining the British Museum as Staff Lecturer in Archaeology in 1997. He became the National Finds Adviser for Iron Age and Roman coins for the Portable Antiquities Scheme (PAS) in 2006, based in the Department of Coins and Medals at the British Museum.
Whilst at North Carolina he published the Lymen Cotten Collection for the Ackland Art Museum and catalogued and interpreted 2,500 ancient and medieval coins from the beaches of Israel for his Honours Thesis. In the 1980s and 1990s he worked on numerous coin assemblages from Wiltshire, mostly for Devizes (now Wiltshire) Museum and he has published several articles in the "Wiltshire Archaeological and Natural History Magazine". In the 1990s, he worked on the excavations at Tel Jezreel (Israel) and San Vincenzo (Italy) and published coins from both sites. In the early 2000s he worked with Richard Abdy (also British Museum) on the ancient coins at the excavations of Butrint in Albania, writing several reports.
For the Portable Antiquities Scheme, he is responsible for the ancient coin data on the Database, with over 45,000 Iron Age and 256,000 Roman coins from England and Wales. He is responsible for the training of the 40 Finds Liaison Officers and their volunteer and intern assistants. He is also in charge of leading on research relating to the coin finds and has published several articles and a book: "A History of Roman Coinage in Britain. Illustrated by finds recorded with the Portable Antiquities Scheme" (Greenlight 2013), which won the Royal Numismatic Society's Lhotka Prize. Sam Moorhead has also led a major campaign to ensure that metal detectorists record all their Roman coins, however poorly preserved. This has involved visiting about 80 Detecting Clubs around the UK and writing articles in magazines such as "Treasure Hunting".
For five years now, he has been working on a new volume in the "Roman Imperial Coinage" series for the British emperors Carausius and Allectus. This project has involved over 70 museums in the UK and abroad and has received enormous assistance from private collectors, dealers and salerooms. It is hoped to be completed before the end of the decade. This work did receive an enormous boost from the discovery of the Frome Hoard of 52,503 coins in 2010, which included over 850 pieces of Carausius.
Sam Moorhead has written a number of other books and articles, often with other authors, notably Philippa Walton and David Stuttard: "The Frome Hoard" (2010), "AD 410 The Year that Shook Rome" (2010), "The Romans who Shaped Britain" (2012) and "31 BC, Antony, Cleopatra and the Fall of Egypt" (2012). He has also written chapters on coinage in the "Oxford Handbook of Greek and Roman Coinage" (2012) and the "Oxford Handbook of Roman Britain" (2016).
Sam Moorhead has served as secretary of the "Royal Numismatic Society" and is currently Education Officer for the "British Numismatic Society". He is a Fellow of the Society of Antiquaries, an Honorary Lecturer at the Institute of Archaeology (UCL), holds an Honorary Doctorate from Hertfordshire University and was voted 'Archaeologist of the Year' by readers of "Current Archaeology" in 2011.
You can contact Sam Moorhead via e-mail.
At the website of the British Museum, you find Sam Moorhead here.
Also at the British Museum website, you can find more information on his research program "Coins from Butrint: Numismatic research on archaeological excavation".
For accessing the website of the Portable Antiquities Scheme click here.
For many of Sam Moorhead's articles see his profile on academia.edu.
https://new.coinsweekly.com/wp-content/uploads/2018/10/29635_e12629a5.jpg
600
600
https://new.coinsweekly.com/wp-content/uploads/2023/01/logo-coinsweekly_590x204.png
2017-10-25 00:00:00
2023-06-16 15:43:54
Moorhead, Sam