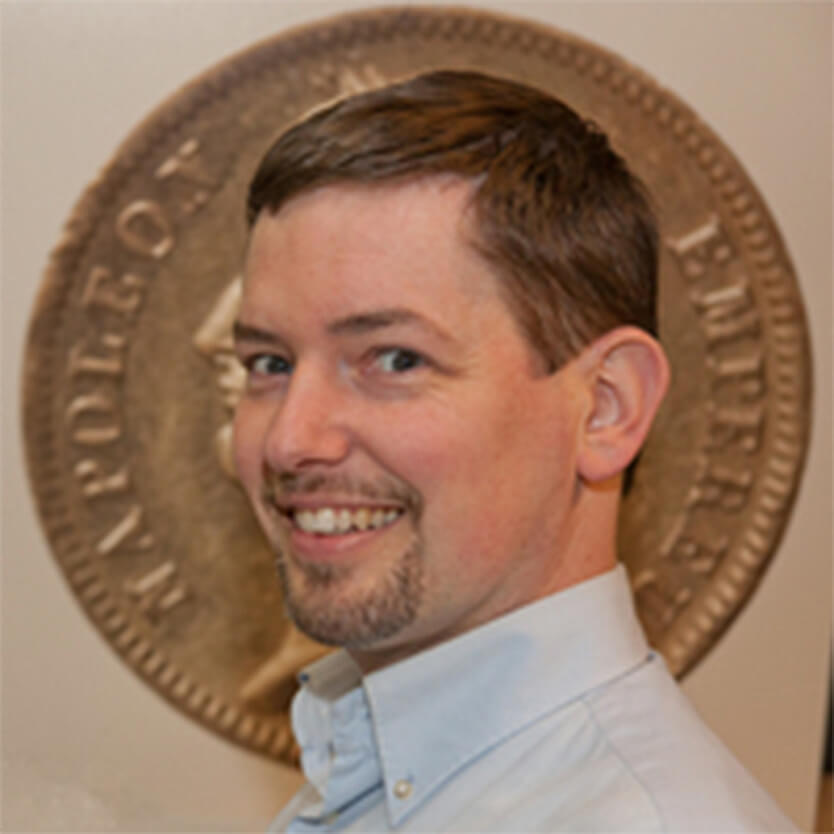 Numismatic curator and monetary historian
Jan Pelsdonk (*1971) became interested in numismatics in 1981. He studied history at the Erasmus University in Rotterdam, during which period he worked as volunteer on coin finds at the Royal Coin Cabinet in Leiden. Since the end of the nineties, he is a professional numismatist.
At the Geldmuseum (Utrecht), Pelsdonk managed the Dutch coin finds database NUMIS. In this period the database grew with circa 250,000 finds. After the Geldmuseum was closed down in 2013, he started Dutch Numismatics, a freelance company for numismatic research.
As part-time curator of the numismatic collection of Teylers Museum, he researches the pedigree and history of the objects. The foundation of the collection was laid by Pieter Teyler van der Hulst (1702-1778), of whom still some 2,000 medals are in collection today.
Since 2016, Pelsdonk is also Editor in Chief of the numismatic magazine De Beeldenaar and since 2013 the Dutch delegate of the International Art Medal Federation FIDEM.
Jan Pelsdonk has written over 150 numismatic articles and some monographs. He also gives lectures and numismatic courses and created over 30 numismatic exhibitions. From 2011 to 2018 he was secretary of the section Historical Museums at the Dutch Museum Association and from 2006 to 2012 secretary of the Royal Dutch Numismatic Society. In 2014 he held the important annual Van Gelder Lecture, linking numismatic research to other disciplines, organized by the Dutch Central Bank and the Foundation Dutch Numismatic Cabinets.
For his work, in 2012 he received the Medal of Merit from the Royal Dutch Numismatic Society, and in 2016 Cuhaj Award of Distinction.
You can contact Jan Pelsdonk directly by e-mail.
More information about him is available on Academia, LinkedIn, and Orcid.
Visit the official website to get an impression of the Teylers Museum.
This is the De Beeldenaar website.
And this is the website of Jan Pelsdonk's own business Dutch Numismatics.
And here is the FIDEM website.
https://new.coinsweekly.com/wp-content/uploads/2020/06/00Pelsdonk.jpg
834
834
https://new.coinsweekly.com/wp-content/uploads/2023/01/logo-coinsweekly_590x204.png
2020-06-11 14:00:23
2023-06-15 14:27:50
Pelsdonk, Jan