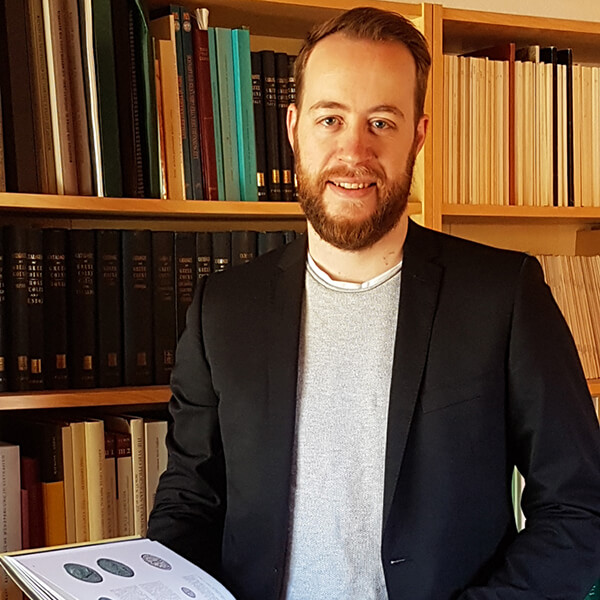 Historian and Numismatist
Lars Rutten (*1983) is a numismatist, historian and coin dealer. Since 2017, he has worked as the Senior Numismatist at Leu Numismatik AG in Winterthur (Switzerland) where he is responsible for compiling two comprehensive auction catalogs per year as well as the organization of several web auctions.
During his studies of Ancient History at the University of Berne, he already developed an interest in classical numismatics. He obtained his bachelor's degree with his thesis titled "Katalog der Sammlung Prof. Dr. med. Hans Friebel".
Lars Rutten has been working in the coin business since 2006. In 2011, he founded Auctiones GmbH alongside Dr. Markus Beyeler and Simon Wieland in Berne, which he helped grow until 2016 as co-manager. From 2015 until 2016, he also worked for Nomos AG in Zurich as an external associate.
Lars Rutten is an expert on Greek, Roman Imperial and Roman Provincial numismatics, the historical interpretation of ancient coinage – with a particular focus on fields that lack extensive source material, such as the local and regional history of Greek and Greco-Roman poleis or the time of the barracks emperors (3rd century AD) – as well as the communication between the elites, and between rulers and those they ruled over, as reflected in ancient coins.
Lars Rutten is a member of the Verband Schweizer Berufsnumismatiker. He has already published numerous articles, including "Caracallas Weg durch Thrakien: Eine Rekonstruktion aufgrund der numismatischen Zeugnisse" in Issue 258 of Geldgeschichtliche Nachrichten. In 2015, Lars Rutten co-curated an art exhibition at the Bromer Art Collection and was the co-author of the accompanying publication "Zeitzeiger: Verwandlungen antiker Bildwelten".
You can reach Lars Rutten via email.
More information about Leu Numismatik AG is available on the company's website and its Instagram page.
https://new.coinsweekly.com/wp-content/uploads/2019/04/01_Whoswho2_Quadrat_k-1.jpg
600
600
https://new.coinsweekly.com/wp-content/uploads/2023/01/logo-coinsweekly_590x204.png
2019-04-09 12:36:31
2023-06-15 16:17:55
Rutten, Lars