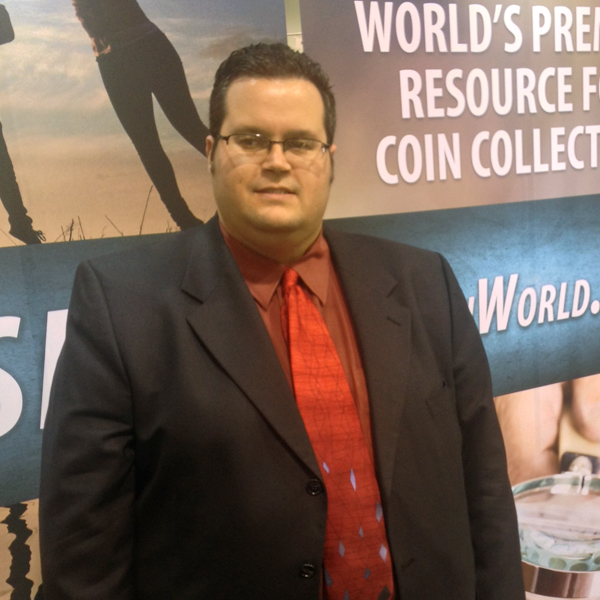 Senior Editor at Coin World
Jeff Starck (* 1979) graduated from his journalism course with a Bachelor of Arts (B.A.) at Webster University in St. Louis, Missouri in 2003. He had been worked as editor-in-chief of the weekly student newspaper "The Journal" and participated in "The Galaxy radio".
Between 2004 and 2008, Jeff Starck worked at Coin World as an author before taking on responsibility as Ohio Contest Coordinator for the National Federation of Press Women (2010-2014). Since 2008, Jeff Starck has been Senior Editor at Coin World. He also writes articles himself. His main focus is world coins.
Since 2013, Jeff Starck is part of the Board of Trustees of the Gateway Arts Council. This organisation, based in Shelby County, Ohio, is dedicated to the communication of art and culture.
Jeff Starck has distinguished himself many times as an author. He won eight awards (effective 2017) of the Numismatic Literary Guild; no less than 18 times has he made first place among the Ohio Professional Writers and he has received eight national honours of the National Federation of Press Women.
Among others, Jeff Starck has written book contributions for "Gold Coins of the World" by Arthur L. and Ira S. Friedberg (8th edition 2009 and 9th edition 2017, Coin& Currency Institute) and "A Guide Book of Canadian Coins" by James Haxby (2012, Whitman Publishing).
Jeff Starck has been collecting coins since childhood. He is especially interested in Missouri-related numismatics and exonumia.
You can reach Jeff Starck via e-mail.
His LinkedIn profile can be found here.
Follow Jeff Starck on Twitter and Facebook.
The Coin World website features him here.
And the series "Monday Morning Brief" on YouTube shows Jeff Starck talking about our fascination with shipwrecks and their contents.
https://new.coinsweekly.com/wp-content/uploads/2018/10/29163_67a8ce53.jpg
600
600
https://new.coinsweekly.com/wp-content/uploads/2023/01/logo-coinsweekly_590x204.png
2017-09-27 00:00:00
2023-06-16 15:46:42
Starck, Jeff